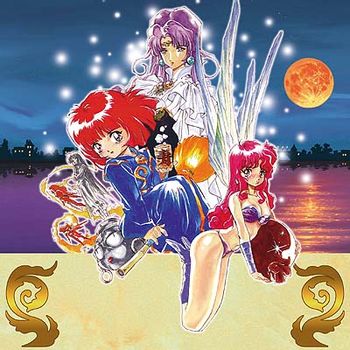 A series of side-scrolling shooters made by Success, Cotton was one of the earliest Cute Em Ups involving Cute Witches and Beam Spam to pre-date Touhou Project. Known mostly to hardcore gamers, the games involved the titular Natta de Cotton searching for candies called Willows (not to be confused with the film Willow), and her fairy side-kick Silk who, when not trying to look for help to save some kingdom, encourages Cotton to help her anyway with the promise of said sweets.
To Cotton, Willows are Serious Business, and she will absolutely do ANYTHING in her power to get hold of (and consume) one of these, such as blasting everything in her way, apparently...
Beside being an early cute'em up, the series stood out in a genre then dominated by non-character spaceships and military vehicles as player avatars, starring a strongly defined protagonist and featuring a greater focus on plot, the games having many cutscenes meant to charm and entertain the players as much as the gameplay. One of the designer of Twinkle Star Sprites would credit Cotton as a major influence on the genre for that reason.
In 2021, to celebrate the series' 30th anniversary, a series of ports of most games in the series was released for Nintendo Switch and PlayStation 4, along with a remake of the first game and a brand new game.
Games in the series:
Fantastic Night Dreams: Cotton (1991, ArcadeClick here for subsequent releases ) - After an evil mist envelopes the world of Filament keeping it nighttime forever, a fairy named Silk seeks for help. She happens upon Cotton, who, in the witch's habit of doing nothing but searching for Willow treats, initially ignores her plea. That is, of course, until the fairy makes mention of said candy... This game is also mildly notable for having the first ever Fan Translation of a Playstation game.
Märchen Adventure Cotton 100% (1994, Super Famicom, 2003, PlayStation, 2021 PlayStation 4 and Nintendo Switch) - When a rumor spread that the famed Willows-producing fairies of Märchen Land have been abducted by an evil witch, Silk goes to find Cotton, who has no idea about the events. The pair head to Marchen Land to find out the truth behind the mystery.

Originally developed as a SFC port of the original game Cotton 100% plays like a vague retread of it, featuring similar but distinct levels. A new feature is the ability to choose between four sets of spells and fairy formation before starting a playthrough.

Panorama Cotton (1994, Mega Drive, 2021 PS4 and Switch) - After inhaling questionable fumes, the ruler of Filament, Queen Velvet, runs off to "protect her kingdom" after divining an incoming catastrophe (via means of plant petals). Meanwhile, word spreads out of monsters burning any Willow they see. As Silk cleans up some of the burnt remains, Cotton appears after eating a charred piece and demands an explanation for the atrocity...

Panorama Cotton does not play like a traditional side-scrolling shooter, instead being a Rail Shooter taking inspiration from Space Harrier. The game is a major technical showcase for the Mega Drive's capabilities, featuring extensive use of paralax scrolling and highly detailled artwork while maintaining smoother framerate than other rail shooters on the system.

Magical Night Dreams Cotton 2 (1997, Arcade and Sega Saturn) - Appli, a spunky princess runs off with a treasure from her Kingdom of Pumpkin to use its power to grant a wish... except she just got swept by a tornado and now lost it. Upon searching, Cotton and Silk stumbles into Appli and overhears the princess' assistant Needle speak of a "Bluewater Willow". Appli and Needle scout out more while Cotton and Silk give chase...

Returning to side-scroller gameplay, Cotton 2 features many changes and new mechanics, such as replacing One Hitpoint Wonder rules with a lifebar, spell attacks activated through fighting game-style motion inputs, and the ability to "seal" enemies in an elemental bubble to shoot them for additional points or start off chain reactions by throwing them at other enemies.

Magical Night Dreams Cotton Boomerang (1998, Arcade and Saturn) - A plotless remix of Cotton 2.
Rainbow Cotton (2000 Dreamcast, Spring 2024 PS4, Playstation 5, Switch, Xbox One, PC) - The demon Tweed has invaded the towns surrounding Lasha Castle in order to get the power of the Legendary Willow within. The fairies reluctantly ask Cotton for help, but before she can deal with Tweed, Cotton must get the four invitations to Lasha Castle...
Magical Pachinko Cotton (2003, Playstation 2) - A pachinko game featuring characters from the series, adapting a real pachinko table.
Fantastic Night Dreams: Cotton Reboot (2021, PS4, Switch, PC) - A revival of the series commisioned by game store Beep, the game includes a port of the Sharp XK68000 version of the original game with added voice acting, and a remake "Reboot" mode developed by Rocket Engine (the developers of the Trouble Witches series).
Cotton Guardian Force Saturn Tribute (2021, PS4, Switch, PC) - A Compilation Rerelease featuring Cotton 2, Cotton Boomerang and the unrelated Success-developed shooter Guardian Force. The games can also be purchased individually.
Superlative Night Dreams: Cotton Rock 'n' Roll (known as Superlative Night Dreams: Cotton Fantasy outside of Japan) (2021 Japan, 2022 overseas, PS4 and Switch,): Willows are dissapearing from the land, and once again it's up to Cotton to resolve the crisis. A collaboration between Success and Studio Saizensen of Umihara Kawase-fame

The first brand-new Cotton game in 20 years, Cotton Fantasy pays tribute not just to the series but to Success' history as a whole, featuring an eccletic cast of crossover characters with different gameplay mechanics. For instances, while Cotton and Appli play much like their original game-selves, Saiva Ria (based off fellow Success shmup Psyvariar) levels up by destroying enemies and "buzzing" enemy bullets, while Fine (inspired by Starfighter Sanvein) foregoes traditional video game lives for a timer that must be replenished through various means. The game also feature two bonus stages based off the gameplay of Panorama Cotton.
There are two arcade versions of the game. The original version is available on Sega's ALL.net service, and the console ports are based on this version. The exA-Arcadia version additionally adds 2-player play and an exclusive Arrange Mode.
In addition to her own series, Cotton has made various Crossover appearances in other video games, such as Rondo of Swords for the Nintendo DS, Studio SeistA's Trouble Witches Origin (as DLC alongside Silk) and Success' sweets-themed puzzle game KASIORI (again, alongside Silk). Cotton is also a playable character in Umihara Kawase Fresh!, as well as Umihara Kawase BaZooKa!!note in both her normal outfit and her appearance from Fresh! alongside Appli.
---
The games provide examples of:
---
Tea Time!
---