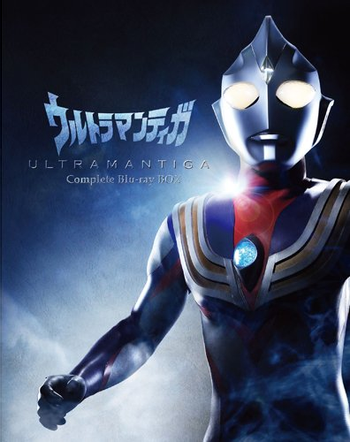 Ultraman Tiga is a tokusatsu series, part of the Ultra Series franchise, that aired from 1996 to 1997, making it the first official entry of the franchise's Heisei era following a fifteen year hiatus after Ultraman 80.
30 million years ago, beings of light came to Earth during mankind's infancy. Seeing the potential for humanity to become superior beings amongst the galaxy, the beings of light set up a colony to help and guide humanity. The beings of light would also neutralize and control a horde of giant monsters who once roamed the Earth with their destructive ways. Using their powers, the beings of light either destroyed the monsters or tamed them, allowing humans to live with no fear of predators.
Malevolent factions within the colony began to oppose their own kind, stressing that they should remain the superior race and to subjugate humanity lest they rise and overtake them. A civil war erupts, destroying the colony and the beings of light, and regresses humanity to the point that it will take millennia for humans to achieve powers beyond their scope.
Three of these beings, which the pre-historic humans with their telepathic powers dubbed "Ultras" survived the war and imbued humanity with their DNA powers of light, hoping to one day jumpstart the humans back to greatness. The last of the great advanced humans, a woman named Yuzare, is chosen to be the keeper of the light, and leaves behind clues throughout time that one day, the monsters will rise again, and beings of light will be needed to combat them yet once more.
With various monsters rising from the Earth in modern times, the United Nations forms the T.P.C. — the Terrestrial Peace Consortium, a think tank looking for ways to neutralize the monsters. T.P.C. itself forms G.U.T.S. — Global Unlimited Task Squad, a strike team made up of combat specialists to counter the monsters if no other option but force is warranted.
On an archeological dig, T.P.C. discovers a pyramid-like device left by Yuzare foretelling the arrival of the monsters, and that only the beings of light can beat them. The G.U.T.S. team heads out to a location given to them by Yuzare's message and discover a previously-invisible pyramid housing statues of the 3 Ultras that survived the war. Two monsters arrive and destroy two of the three statues, but a beam of light contacts G.U.T.S. Officer Daigo Madoka moments before his demise, informing him that he is a true blood descendant with the DNA of the Ultras and awakens a power within him to save the entire world, saving his life in the process.
Using his inner heroism, his passion for justice, and his commitment for defending the innocent, Daigo accepts his heritage as the inheritor of the greatest power of them all — hope, as this era's Ultraman Tiga!
In 2002, Ultraman Tiga was dubbed in English by 4Kids in an attempt to revive Ultraman amongst U.S. audiences (and possibly as a Suspiciously Similar Substitute for Power Rangers— 4Kids had taken over programming of Fox's Saturday morning block at the time, as Fox Kids and its assets had been sold to Disney). Rather than a direct translation of the source material, this dub was an Affectionate Parody, paying homage to Peter Fernandez's 1966 Ultraman dub. However, this time around, the dub takes it to another level, as it's filled with a plethora of lampshading humor. Audiences weren't amused, however, and the show was abandoned about halfway through.
In 2021, in celebration for its 25th anniversary, Tiga recieved a Spiritual Successor series, Ultraman Trigger: New Generation Tiga. Trigger is not set in the same timeline as the "Neo Frontier" timeline as Tiga and its Sequel Series Dyna, but shares many elements and even a few connections with them.
---
Ultraman Tiga provides examples of the following tropes:
---