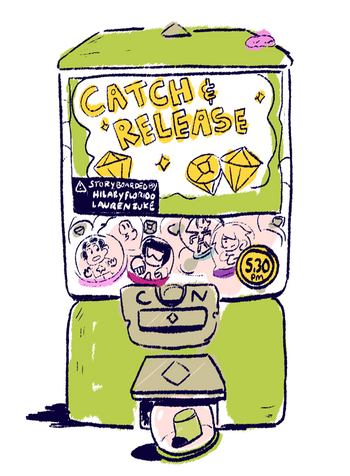 It's bedtime at the home of Steven and the Gems. Steven brushes his teeth, washes his face, cleans out his ears, and polishes his gem so he can see himself in it. He snuggles under his comforter with his stuffed animals looking on.
Steven:
Good night, happy bear. Good night, sad bunny. Good night, playful kitty. Good night, ominous triangle at the foot of my bed.
[Beat, then Steven looks again to see the triangle is gone]
Whatever.
Steven goes to doze off, but he wasn't mistaken about the ominous triangle. Peridot was lying in wait and kidnaps Steven, off to the Galaxy Warp, where she half-commands, half-pleads with Steven to fix the Galaxy Warp like he fixed Lapis Lazuli's gem. Steven has to take a minute to work up the spit.
Steven: Okay, okay, just give me a second! My mouth gets dry when I'm scared.
He finally has enough saliva to lick his hand, which he slaps on the warp, but nothing happens. An increasingly frantic Peridot blows her cool altogether and crumples to the ground, babbling semi-coherently about the Cluster, and about them all being shattered. Before Steven can coax any more out of her, Amethyst, Garnet and Pearl arrive, ready to fight because Peridot had the nerve to kidnap Steven.
Peridot tries her usual tricks to get away, but the Gems are prepared. They dodge her force blasts. When she tries the helicopter trick, Amethyst is ready with her whip. When Peridot tries to electrify the whip again, Garnet redirects the shock back and yanks her to the ground.
Peridot protests, still trying to scramble away. She starts to say something:
Peridot: You need me! I'm the only one who knows about–
But Garnet destroys her form before she can complete her sentence. She is "poofed" and bubbled off to the temple, minus the equipment she was wearing on her hands and feet. That, Amethyst tosses into the ocean.
Back home, Amethyst jokes with Steven about being kidnapped, still not quite getting the concept of "too soon". Steven is consumed by concern and curiosity, certain whatever Peridot was trying to say was important, even though the Gems don't seem to think so. His intense desire opens up Rose's room, and he runs inside. He asks the room to let him talk to Peridot, but all it does is generate a copy Peridot who says the last thing Steven remembers her saying. He demands to know the way down to the real basement, and the room parts its clouds to for him so he can slide down a gem slide-bannister-pole. He attempts a somersault dismount but doesn't quite manage it.
He takes a minute to locate Peridot, then lets her out of her bubble. She re-forms, and is revealed to be no bigger than Steven without her "limb enhancers". After Steven gushes about how cute her true form is, Peridot flails at him ineffectually until landing a hit. When Steven comments that she hurt him, she leaps at him with more slaps until he grabs her wrists and makes her stop. He gets her to calm down momentarily, long enough for him to tell her he's the one who let her out.
Peridot: ...why would you make such a miscalculation?
Steven explains that he wants to know more about the Cluster. Peridot sits across from him until she has him comfortable and ready to listen, then makes a run for it. Steven gives chase, and they end up back in the house. The Gems are immediately ready to fight when they see Peridot is loose again, blocking all the exits. Cornered, Peridot scampers into Steven's bathroom.
She attempts to flush herself down the toilet, though Amethyst calls out that Peridot needn't bother because it won't work (Which Amethyst knows because she's tried). As they discuss what to do with her, Peridot clambers all over the bathroom, trying random things to see what they do. The Gems try to get her to come out, but she refuses, still hurling insults. Pearl speculates on how she got out. Amethyst suggests that they needed a bigger bubble.
Garnet: My bubbles are fine.
Steven nervously admits that he's the one who let her out. The Gems are astonished he'd do such a thing until he explains that she's been talking about a Cluster and hinting at destruction and he thought it was important enough to let her out. Garnet acknowledges the point and asks Peridot to have a civil conversation. The rogue from Homeworld refuses and continues to hurl taunts at them, including one that insults Garnet enough to enrage her.
Steven and the Gems regroup in the kitchen, thinking on what they'll do now; they can't just let Peridot live in their bathroom, especially given Steven needs it. When they ask if he needs it now and he answers in the affirmative, they suggest he go outside. He angrily concedes.
The next morning, Steven returns to the bathroom door and tells Peridot he has something for her. He gives back the foot that the Gems took from her the last time they battled, and after a moment to consider receiving it, she opens the door and allows him in. Peridot sulkily remarks that it's a great souvenir of the last time she got assaulted, and Steven offers to take it back if the reminder is painful. Peridot clings to the last vestige of her limb enhancer, sinking into dismay when Steven reveals the rest of her limb enhancers have been thrown away. Realizing she's confined to her little, unintimidating form, she tries to determine if anything in the room is a weapon. Steven advises her that his toothbrush only attacks cavities, that he never uses the comb, and that a towel only makes a good weapon if it is wet and tightly wound up. He reminds her again that he would really like to help her.
Peridot: I don't think you can help me but... I appreciate the offer.
Steven asks Peridot to let him use the toilet. Being a Gem with no need for biological function, she wonders "For what"? as the star Iris Out closes out on her for the episode.
---
Tropes:
---