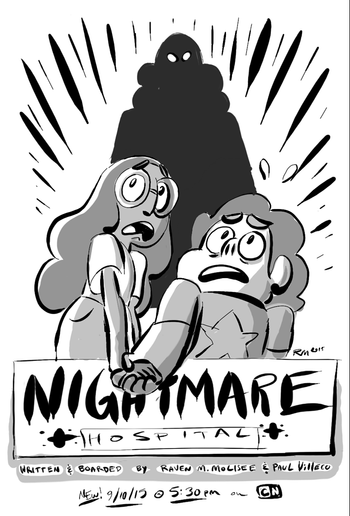 Just a bit past nightfall on the street where Connie lives — a portal opens, dispensing Lion with Steven and Connie on his back. The pair speak briefly about how well Connie's sword practice is going, and Connie expresses a wish that she could practice more at home. Steven pulls Rose's sword from Lion's head and drops to one knee, offering Connie the sword with a flourish.
As they go inside, they are still discussing how important the sword is, and how Connie's parents would never permit her to have such a thing. Just then a sound alerts Connie that her mother is home! Steven then sees Lion has left and they have no place to hide the sword.
Dr. Maheswaran enters to find Connie calmly playing the violin, and Steven sitting nervously beside her. Connie assures her mom she's wrapping up her violin practice hour. Her mother counters that Connie is now running late for her study hour.
Dr. Maheswaran crosses the room to the door, where Rose's sword is disguised as a coat rack. She speaks of a crash victim who seems to be something out of a nightmare — but assures the children they're spared the gory details by doctor-patient confidentiality. Immediately after, she realizes that the family doesn't have a coat rack, and freaks out when it is revealed to be a sword!
Dr. Maheswaran lays down the law! No swords, under any circumstances! She goes on to tell her daughter and Steven about all the kids she's seen who have sliced their own faces off from playing around with swords...none, because they all had parents who loved their children and don't allow them to play with swords! But before her tirade can continue, the phone rings. It's work. Something has happened at the hospital and Dr. Maheswaran is needed. She leaves, sticking the sword in a duffel bag.
Dr. Maheswaran:

I will discuss this with your father to calculate how grounded you are.

...

and we're using

the abacus

.
After a moment of dismay on the part of Steven and Connie, they decide Rose's sword is too important, and they must get it back. Lion portals them to the hospital, and Steven "pays" him in Lion Lickers. Lion drops to the asphalt and plays with it like a housecat.
The hospital is dark and spooky as night has truly fallen. Connie explains they dim the lights after dinner time. Steven and Connie sneak past the nurses at the reception desk, then hide as Connie's mother walks down the hall to a room where her patient awaits. The duo peek in through the window. Under the covers, the patient thrashes and groans. Dr. Maheswaran attempts to get a heartbeat, but finds none.
Dr. Maheswaran: Cheap hospital budgets.
She leaves and Connie and Steven seize their moment. They go for the duffel bag and as they're carrying it back out, Connie's mother returns. Another argument ensues about Connie not being allowed to touch the sword until they hear a large noise. The kids and Dr. Maheswaran leave the room only to find a giant lurching figure coming down the hall toward them. Connie's mother identifies it as another patient, but Steven recognizes it for what it is: another gem fusion creature. Connie tries to convince her mother that she knows how to use the sword, but Dr. Maheswaran insists that mother knows best, even as her calm is fracturing in the face of the inhuman threat. Connie implores her mother to bend the rules just this once, finally crying out in frustration:
Connie: I'm not some rule-driven robot!
As if the strong emotions in the room have disturbed "the patient" it throws off its covers, revealing itself to be another one of the disturbing gem fusion experiments. It grabs Connie, and Steven immediately summons his shield to fight it off.
Steven: Keep...your...hands...off...my...Connie!
Steven, Connie, and Dr. Maheswaran try to flee down the hall, but the two gem fusion monsters end up flanking them at either end. Steven bubbles the three of them safely in his forcefield, and Connie makes one last attempt to convince her mother to let her draw the sword. Her mother still refuses. Connie, still upset, calls her mother out for not even noticing that Connie popped the lenses out of her glasses because her eyesight no longer requires correcting. She explains that she's been dealing with magic and weirdness since meeting Steven, and takes the sword back. Steven, at Connie's command, drops his bubble. She slices through one, then takes a running start, gets a boost to her leap from Steven lifting her on his shield, and cuts down the second. Reduced to their gem shards, Steven bubbles them away.
As they leave the hospital, Connie's mother tries to make sense of what she has just seen, and what her daughter is capable of. Connie apologizes for keeping it a secret because she feared her parents would never let her see Steven again. Stricken, Dr. Maheswaran asks if she and her husband have been too controlling. But after a few moments, she decides to pull back on the rules, while keeping an open mind about the magic stuff and tells Connie she doesn't want any more lies, but she wants to know what's going on in her daughter's life.
As Connie and her mother reconcile with hugs and tell each other "I love you," Steven is left watching, and has only his mother's sword to embrace.
Iris Out over the two hugging.
---
Tropes:
---