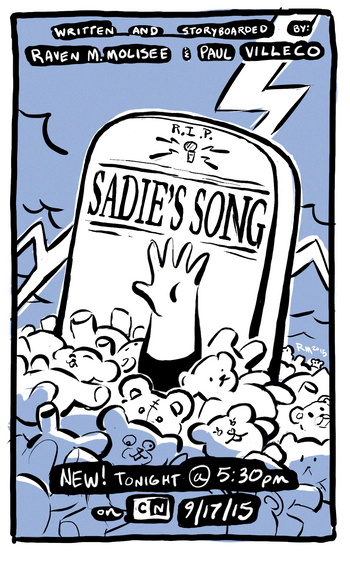 It's Beachapalooza once again! Steven is helping Mr. Smiley give out flyers. He tries to give one to Lars, who ignores him. Steven being Steven, he leaves it outside. Entering the Big Donut, he calls for Sadie, but she's nowhere to be found. Curious Steven looks around and finds her in the stock room, singing and vamping along with a cheesy pop song on the radio.
Steven cheers and Sadie is absolutely mortified that Steven caught her singing. But Steven tells her that her voice is great. Sadie insists that anyone could sing along with the song due to how cheesy and catchy it is.
Sadie: And I know...every word.
Steven encourages Sadie with his usual innocent enthusiasm to sing at Beach-a-Palooza! Before long, they're back at Sadie's house. Her bedroom is in the basement, and Steven thinks that's cool. He also thinks the giant pile of plush toys is cool. Sadie tells Steven offhand that they're not really hers, but that he's welcome to take one.
Steven: I couldn't break up a family.
As Steven begins suggesting routines and outfit items for Sadie's performance, a sound alerts her that her mother is home. She tries to usher Steven off, but Barb the mail carrier comes down with a new plush toy for Sadie's already enormous pile. Barb asks what they're up to. Sadie tries to muffle Steven from saying but it gets out: Sadie is considering singing at Beachapalooza. Immediately Barb is excited and on board, launching into Sadie's closet to take out Sadie's ballet outfit, her swimsuit, and her softball outfit. Sadie has a story for each one, and how briefly each thing lasted — particularly the softball; Barb punched out the umpire for "trying to cheat Sadie out of a double."
Before long, Steven and Barb are trying to turn Sadie into a pop star. They're doing her hair and making her walk in heels she's obviously too uncomfortable and self conscious to walk in. They pick out a midriff-baring dress, and drag her back when she walks away from them in disgust. Sadie expresses worry about her name being on the flyer. Steven counters enthusiastically by saying if they leave her off, she'll be the Mystery Guest!
Finally the big night comes around, and Mr. Smiley introduces some of the acts. Kiki Pizza and Gunga Nanafua as a ventriloquist and dummy.
Nanafua: How does pizza tie its shoes? With a garlic knot!
Jamie the mailman does a mime act with snarky commentary from Jenny Pizza in the audience.
Ronaldo Fryman gives a lecture on what he knows of Rock People.And as the evening goes on, we finally get our first look at Sadie, who is made up to a fare-thee-well, and is clearly nervous and uncomfortable about the whole thing. Mr. Smiley tries to help with her stage nerves.
Mr. Smiley: A smile never hurt anybody.
Sadie manages a smile, along with Barb and Steven, who begin showering her with glitter until they run out. Barb goes to the car to get more, leaving the two kids alone. Sadie rushes to get a drink of water and in the process washes off her lipstick. Steven goes to reapply it, and Sadie hits her limit. She dunks her head in the drinking water keg and washes all her makeup off, until she looks like she normally does.
Finally, Sadie explains that she thought this might be fun to do, but on her own terms. But soon as her mother found out, her mother rushed right in, took over, and started steamrolling Sadie into doing things her way regardless of how Sadie felt about it — to the point that when she was interested briefly in softball, every gift was softball-related until the umpire incident got her kicked off the league.
Of course just as Sadie reaches the summit of her rant, her mother returns to hear it. Stunned, Barb says she just wanted the world to see how talented her daughter was. She says, confused, she thought Sadie wanted to do this.
Steven steps up and says that Sadie never really said she wanted to do it. Steven suggested it and got the ball rolling, and Sadie simply didn't stop him.
The announcement is made from Mr. Smiley that it's the Mystery Guest. The curtain rises, the music starts — but instead of Sadie, it's Steven, all made up like a pop diva, wearing Sadie's glitzy, glittery outfit, and singing.
A day or so later, Steven is playing the same pop song on his ukulele, and Sadie is singing along, no longer unhappy that she was being railroaded into doing something, but now happy that Steven still admires her singing without trying to turn her into something she's not.
We Iris Out on Sadie singing after Beachapalooza.
---
Tropes:
---