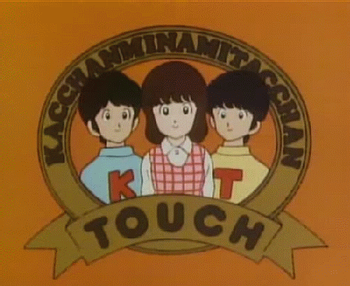 "Our family, the Uesugis, and our next-door neighbors, the Asakuras, had three kids born in the same year. This cute kid is Uesugi Tatsuya. that's me. This is my younger brother, Kazuya. We're twins. and this is our neighbor, Minami. We've always been good friends...but one day we noticed that one of us was a girl..."
A baseball/romance/Slice of Life manga by Mitsuru Adachi, which ran in Weekly Shonen Sunday from 1981 to 1986, it follows the lives of twins Tatsuya and Kazuya Uesugi and their neighbor Minami Asakura, as they experience triumph and tragedy both on and off the baseball field.
Tatsuya, the elder twin, is a lazy, perverted kid with no apparent ambitions or goals in his life. Younger twin Kazuya, on the other hand, is mature, intelligent, and a brilliant athlete, from whom everyone expects wonderful things. Their neighbor, Minami, is a bright and spirited girl, whom both brothers have known and loved their whole lives. Everyone believes that Kazuya and Minami would make a perfect couple, and that they're destined for each other — too bad he's not the one she's in love with.
The anime adaptation, which aired for 101 episodes from 1985 to 1987, set viewership ratings records when it first aired and is one of the highest-rated anime TV shows ever in Japan.
---
Examples:
---