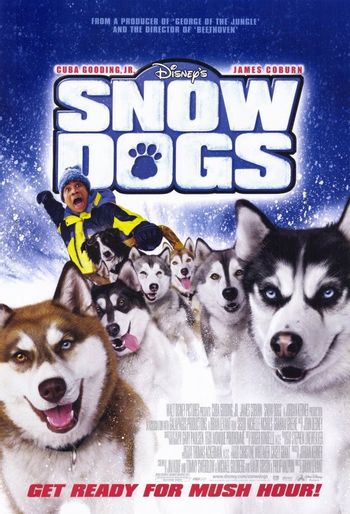 Snow Dogs a 2002 Disney comedy about Ted Brooks, DDS (Cuba Gooding Jr..), a Miami dentist who discovers that he was adopted when he receives a letter informing him of the reading of his recently deceased mother's will, in Tolketna, Alaska. Once there, he discovers that he has inherited his mother's sled dogs, chief among them a temperamental husky named Demon, and is falling for Barb (Joanna Bacalso), the local bartender who was also a close friend of his biological mother. Ted must learn the trade or lose his pack to a crusty mountain man James "Thunder Jack" Johnson (James Coburn).
Though marketed as a wacky talking-animal comedy, it's actually more of a story about exploring your roots, with some Fish out of Water comedy spiced throughout.
The story was inspired by the novel Winterdance: The Fine Madness of Running the Iditarod, by Gary Paulsen.
---
This film provides examples of:
---