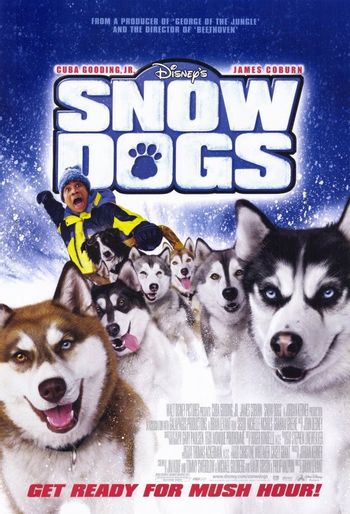 Snow Dogs is a 2002 Disney comedy film directed by Brian Levant, with the screenplay by Jim Kouf, Tommy Swerdlow, Michael Goldberg, Mark Gibson and Philip Halprin. The film is about Ted Brooks, DDS (Cuba Gooding Jr.), a Miami dentist who discovers that he was adopted when he receives a letter informing him of the reading of his recently deceased mother's will, in Tolketna, Alaska. Once there, he discovers that he has inherited his mother's sled dogs, chief among them a temperamental husky named Demon, and is falling for Barb (Joanna Bacalso), the local bartender who was also a close friend of his biological mother. Ted must learn the trade or lose his pack to a crusty mountain man James "Thunder Jack" Johnson (James Coburn).
The film also stars Nichelle Nichols as Ted's adopted mother Amelia Brooks, Sisqó as his adopted cousin Rupert Brooks and Graham Greene as Peter Yellowbear.
Though marketed as a wacky talking-animal comedy, it's actually more of a story about exploring your roots, with some Fish out of Water comedy spiced throughout.
The story was inspired by the novel Winterdance: The Fine Madness of Running the Iditarod, by Gary Paulsen.
---
This film provides examples of:
---