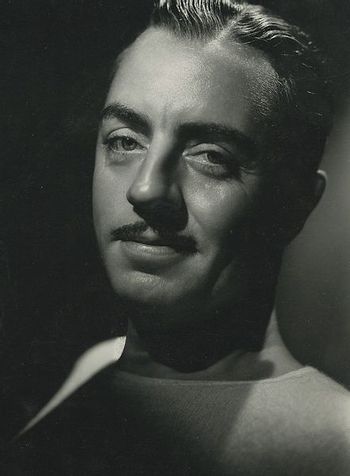 "Powell is to dialog what Fred Astaire is to dance. His delivery is so droll and insinuating, so knowing and innocent at the same time, that it hardly matters what he's saying."
William Horatio Powell (July 29, 1892 – March 5, 1984) was an American actor and one of the biggest stars of The Golden Age of Hollywood, especially during The '30s. He typically played charming, debonair, witty urban sophisticates.
Powell was born in Pittsburgh, with the family moving to Kansas City in 1907. He went to New York to major in drama, played in vaudeville after leaving college, and then got parts on the stage. He made his film debut in 1922 with a screen adaptation of William Gillette's play Sherlock Holmes (a film that also happened to be the debut of Roland Young, who would himself have a very successful career as a character actor). He worked steadily during the silent era, playing a lot of villains. By 1929 he was starring as detective Philo Vance in The Canary Murder Case. He would play Vance three more times over the next few years.
Powell is best remembered for the six films of The Thin Man series, in which he played charming, wisecracking, martini-swilling detective Nick Charles. In each of the Thin Man films he co-starred opposite Myrna Loy as his affectionate but snarky wife Nora Charles. In fact, Powell and Loy starred in fourteen films together, not just the "Thin Man" films but also movies like Manhattan Melodrama (notorious as the film John Dillinger saw just before he was murdered by the FBI) and The Great Ziegfeld (Academy Award for Best Picture of 1936). They remain one of the most famous Those Two Actors pairs of all time.
Powell married Carole Lombard in 1931, but they Amicably Divorced in '33; he actually recommended her to star alongside him in the screwball comedy classic My Man Godfrey three years later. He then fell in love with Jean Harlow, and was so disturbed by her death in 1937 that he had to be helped to his seat at her funeral. That same year he was diagnosed with cancer and nearly died, only to be saved by a then-experimental chemotherapy application. His film career slowed down after that but he still made three more Thin Man films and got his third Oscar nomination for Life with Father (he went 0 for 3). His third marriage, to actress Diana Lewis, lasted for the rest of his life. His last film was the 1955 film adaptation of Mister Roberts; although he would go on to live for another thirty years, trouble remembering his lines during production led to his retirement from the industry.
---
William Powell on TV Tropes:
---
Tropes that applied to his characters:
---