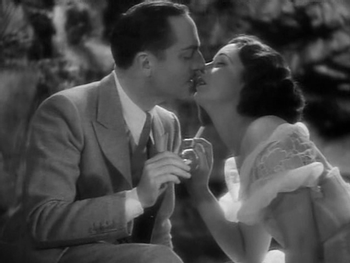 One Way Passage is a 1932 Melodrama directed by Tay Garnett, starring William Powell and Kay Francis.
Dan Hardesty and Joan Ames (Powell and Francis) meet each other in a bar in Shanghai and are instantly smitten with each other. Happily, Dan and Joan find themselves boarding the same ship headed back to San Francisco, with a stop at Honolulu. Unhappily, both Dan and Joan have pretty big problems. Dan is an escaped murderer under sentence of death, and he is being taken back to San Francisco by a policeman, Steve Burke. Joan for her part is terminally ill; she won't last much longer after getting back to San Francisco, if she even makes it that long. Meanwhile, two of Dan's criminal acquaintances, Skippy the thief and "Barrel House" Betty the con artist are on board, and are willing to help Dan.
Cue tragic romance.
This had a remake in the forties, Till We Meet Again.
---
Provides Examples Of:
---