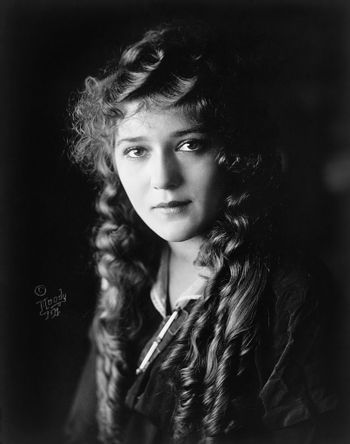 "It would have been more logical if silent pictures had grown out of the talkies instead of the other way around."
Mary Pickford (born Gladys Louise Smith, April 8th 1892 — May 29th 1979) was the biggest movie star in the world, the trope maker for The Ingenue and Dawson Casting in films, one of the founders of United Artists, and "America's Sweetheart" ... even though she was Canadian.
Pickford was born Gladys Smith in Toronto. By the time she was seven years old she was a child actor on the stage. By 1907, she was appearing on Broadway. This brought her to the attention of cinema's first great director, D. W. Griffith, who signed her to a contract in 1910. She soon became very popular, and by 1914 and Tess of the Storm Country, she was world-famous. Only her good friend and future business partner Charlie Chaplin could claim to be as big a star as she was.
Pickford played a variety of roles in her early years, but by the time she became a big star she was playing mostly innocent girls, spunky teenagers, or wide-eyed ingenues. She often was used for Dawson Casting parts, like in The Poor Little Rich Girl, when she played an 11-year-old child at the age of 24. In Little Lord Fauntleroy (1921) she played dual roles, simultaneously Dawson Casting as 10-year-old Cedric Errol and Playing Gertrude as Cedric's mother.
Determined to take control of her own career, Pickford joined her friends Chaplin, Griffith, and Douglas Fairbanks in founding United Artists in 1919. At the same time she was falling in love with Fairbanks, despite the fact that both of them were married; they divorced their spouses and married each other in 1920. They became the first Hollywood power couple and the Ur-Example of the Portmanteau Couple Name—or rather, their house did
. They divorced in 1936.
Pickford hated talking pictures (see the quote above) but still tried to make the transition. After relentlessly campaigning, she won the first Academy Award for Best Actress in a talking film, for Coquette. She also did an adaptation of The Taming of the Shrew with Fairbanks, the only film they ever starred in together. Additionally, she cut off her world-famous long, luxuriant curls, adopting a short bob in order to project a more grown-up image as she approached 40 years old. It didn't work, and her acting career petered out in 1934. She would still be the most important woman in Hollywood for another 20 years, however, due to her role as co-owner with Chaplin of United Artists. In her later years, she lived a very Norma Desmond-ish existence at Pickfair, drinking heavily and hardly ever seeing anyone, not even showing up when she received an honorary Academy Award in 1976 (she did allow a film crew to give her the award at her house).
---
Mary Pickford films on TV Tropes:
---
Tropes associated with Mary Pickford: