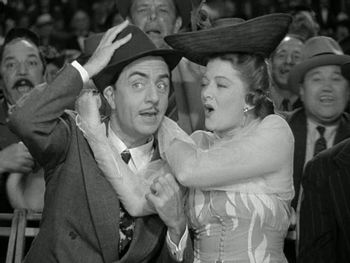 Shadow of the Thin Man is a 1941 mystery film directed by W. S. Van Dyke. It is the fourth of six films in the "Thin Man" series that started with The Thin Man in 1934.
Nick and Nora Charles (William Powell and Myrna Loy) are off to a racetrack for a leisurely afternoon when the races are interrupted by the mysterious death of a jockey. The jockey is believed to have been murdered because he was about to reveal that the mob had pressured him into throwing a race. Nick is pressed into service again as a detective, and he is asked by a do-gooder state assemblyman, Major Sculley (Henry O'Neill), to help investigate the mobsters who are fixing horse races. Things get even better when Whitey Barrow (Alan Baxter), a reporter who is in deep with the mob, is murdered. Nick's friend Paul Clarke (Barry Nelson), a much more honest reporter, is accused of the crime, but Nick hunts for the real murderer.
The fourth and last of the Thin Man films directed by Van Dyke, who killed himself in 1943 after falling ill with cancer. Donna Reed appears as Paul's supportive girlfriend Molly, in one of her first big roles. Stella Adler appears as Claire, the mob boss's girl, in one of the only three film roles of her career; she would go on to found tremendously influential acting schools in New York and Los Angeles.
---
Tropes: