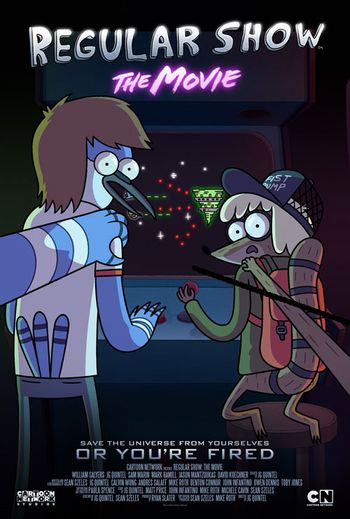 The universe is on the verge of being destroyed.
Years, whole decades, gone in an instant.
Until nothing is left.
Regular Show: The Movie is a TV film based on the animated Cartoon Network series Regular Show, released in November 2015. It's a Big Damn Movie based around the park workers in a Race Against the Clock after Mordecai and Rigby accidentally create a "timenado". What's on the line? The whole universe, as well as Earth's history...and potentially Mordecai and Rigby's friendship.
Ideas for a Regular Show film were reportedly first conceived in 2013, with the film beginning production the following year. It was officially announced during Cartoon Network's 2015-16 upfront slate
, alongside a tweet from series creator J.G. Quintel
. In June 2015, Quintel sent out another tweet stating that the film was finished
.
You can watch the trailer here.
On September 1st, 2015, the entire movie was released digitally on iTunes. A home video release followed on October 13, 2015, before having its television premiere on November 25, 2015.
---
This movie provides examples of:
---