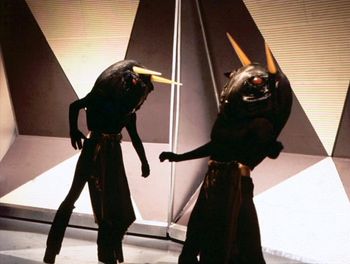 "Lord Nimon! It is I, Soldeed!"
"Weakling scum!"
The one where a man rips his trousers.
The premise starts out as the myth of Theseus and the Minotaur...
A group comprising three teenaged boys and four teenaged girls from the planet Aneth are being taken to the planet Skonnos as sacrifices to Nimon, a powerful alien with the appearance of a bull-headed man who lives in the centre of a vast labyrinth. Among them is the hero Seth (Simon Gipps-Kent), who is going to defeat Nimon once and for all.
Unfortunately for Aneth, Seth is only a Badass on Paper: the truth behind his reputation consists of a little bit of luck and a great deal of exaggeration on the part of his friend and fellow captive, Teka (Janet Ellis). Fortunately, the Doctor and Romana have come to help. They're up against the magnificently hammy co-pilot of the slave ship (Malcolm Terris), the even more fantastically hammy high priest Soldeed (Graham Crowden), and the tremendously hammy Nimon itself (Clifford Norgate). Romana gets captured and shoved into the labyrinth with the sacrifices, while the Doctor tries to find out what's going on and plan a rescue.
The Doctor meets Soldeed, who tells him that in return for the sacrifices, Nimon has promised to restore the Skonnon Empire to its former glory. Meanwhile, in the labyrinth, Romana and the sacrifices encounter Nimon, and begin to discover that there is much Soldeed hasn't been told, and that the Skonnon Empire's glory is very low on Nimon's true list of priorities. Instead, the Nimons are a planet-devouring race, and they've built a black hole teleporter that will transport the entire Nimon population to the Skonnon Empire's cities.
The co-pilot is killed by the Nimon, overacting so hard that his trousers visibly split. Graham Crowden makes up for the co-pilot's death by overacting for two. When he dies as well, K-9 saves the day.
---
Tropes
---
"You meddlesome hussy!!"