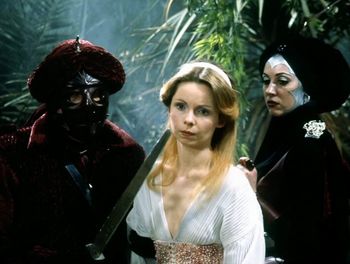 "Well, to be fair I did have a couple of gadgets which he probably didn't, like a teaspoon and an open mind."
— The Doctor explains how he learned more about the egg in minutes than local scientists did in years.
The one where the Doctor massages a penis monster.
Written by David Fisher. This four-episode serial first aired from October 27 to November 17, 1979.
---
The TARDIS follows a distress signal to the planet Chloris, where the Doctor and Romana investigate what appears to be the shattered remains of an enormous metal egg. (The Doctor's technique largely involves listening to the sound made when he taps it with a teaspoon.) They are captured by guards and taken to see the local dictator, Lady Adrasta, who owns the mine that is the planet's only source of metal. Adrasta is impressed by how much the Doctor has figured out about the egg, and wants him to work for her; the alternative is to be thrown into the Pit, an abandoned mine working inhabited by a mysterious Creature that kills all who come near.
The Doctor being the Doctor, he jumps into the pit with both feet, and soon meets the Creature. It can't talk, so the Doctor resorts to cuddling with it and extensively putting his mouth on its... large bits that stick out. Once the Creature manipulates some local beardy men into retrieving its communicator, it's able to use the Doctor's own voice to speak, and the Doctor discovers that it is in fact an alien ambassador from the planet Tythonus, whose spacecraft was the egg investigated earlier. Tythonus has lots of metal but not much vegetation, and the ambassador had hoped to organise a trade, and was thrown into the pit for his trouble — Adrasta's stranglehold on metal production is keeping her in power.
The Doctor helps the ambassador to escape, and in return the ambassador helps the Doctor to divert the neutron star that the Tythonians have aimed at Chloris in retaliation. Adrasta is killed by the ambassador, and a trading contract is drawn up.
---
Tropes
---