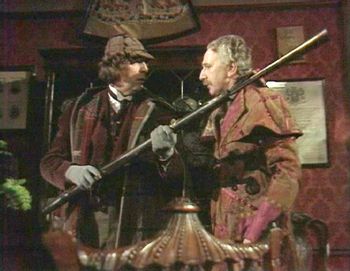 "Doctor, you make me wear strange clothes, you tell me nothing: you are trying to annoy me."
— Leela
Written by Robert Holmes. This six-episode serial first aired from February 26 to April 2, 1977.
---
Doctor Who goes all Sherlock Holmes-Meets-Hammer Horror in this tale set in Victorian London. Police pathologist Professor George Litefoot is investigating a body found floating in the Thames, and, with help from the Doctor, determines that hairs found on the body come from a giant rat. Also, Leela has to wear period clothing and learn table manners.
Moving into the sewers to investigate, the Doctor, Leela and Litefoot discover giant rats on the loose and follow the trail to the Palace Theatre. Stage magician Li H'sen Chang has been kidnapping young "wretched girls" for his master, the ancient Chinese god Weng-Chiang. In reality, "Weng-Chiang" is the 51st century war criminal Mangus Greel (Upon hearing about the Doctor's presence in Victorian England, Greel worries about the presence of "Time Agents" - he clearly comes from the same 51st century as a certain conman we meet many years later in the Revival Series). Greel feeds on the kidnapped girls' lifeforce to stabilise his molecular structure, which was ravaged by the trip through time. The theatre's owner, Mr. Jago, teams up with the Doctor to try and stop his former employee.
Greel's "Time Cabinet" was lost in London and has been found by Litefoot, so Greel sends Chang's ventriloquist's doll, "Mr. Sin" (a computerised homonculus with a pig's brain... well, the 51st century is a bit weird like that) to infiltrate Litefoot's house and retrieve it. Mr. Sin succeeds, but the Doctor and friends manage to intervene before Greel can escape. He falls into his own lifeforce-extracting machine and is disintegrated, before the Doctor manages to deactivate Mr. Sin. The Doctor buys everyone muffins to celebrate.
---
This story is markedly Darker and Edgier, Hotter and Sexier, as well as Bloodier and Gorier than most of classic Doctor Who. At the time of production, producer Philip Hinchcliffe was already functionally sacked following complaints from Moral Guardians about the drowning cliffhanger in "The Deadly Assassin", and Hinchcliffe, feeling that he had nothing left to lose on his last story in the job, went all-out. The show wouldn't reach these levels of grim violence again until Season 22 in 1985, where it would briefly be the norm rather than the exception.
The characters of Jago and Litefoot became quite popular with fans, and for years rumours abounded about a planned spin-off centred around the duo solving crimes in Victorian London, and it was even seriously considered by the BBC a couple of times. While the spin-off never made it to TV, Jago and Litefoot, along with PC Quick, eventually ended up getting their own Big Finish Doctor Who spinoff range, Jago & Litefoot. It also occasionally features the Fourth and Sixth Doctors, as well as Leela.
Christopher Eccleston watched this serial to prepare for his role as the Ninth Doctor
.
---
Tropes
---