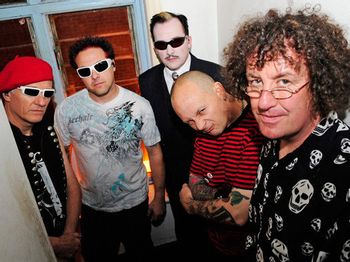 Noise is for heroes (Heroes!!!)
Leave the music for zeroes (Zeroes!!!)
Noise, noise, noise is for heroes (Heroes!!!)
Aww yeah
"Noise, Noise, Noise"
The Damned are one of the original British punk bands, although they have mutated beyond punk rock in the decades since they were first formed in 1976. The original line-up consisted of Dave Vanian (Vocals), Brian James (Guitar), Captain Sensible (Bass), and Rat Scabies (Drums). They released both the first British punk single ("New Rose") and British punk album (Damned Damned Damned) before becoming the first British punk band to tour The United States. Interestingly enough they were not the first British punk band to break up (that was the Sex Pistols; The Damned were second) but they were the first to re-form. The subsequent line up had Captain Sensible replacing the departed Brian James on guitar and whatever bassist they could find note Henry Badowski, Motörhead's Lemmy (!), Algy Ward, Paul Gray, Bryn Merrick, Jason Harris, The Sisters of Mercy's Patricia Morrison, and Stu West that week replacing the Captain on the bottom section. It was during this period that the band — which thanks to their vampyric crooning frontman Vanian had always dabbled in the dark — began to take on a more gothic sound, which helped give birth to the Gothic Rock subgenre.
The band broke up again in the early nineties but re-formed (again) in time for the new millennium and are still performing and occasionally releasing music. In November 2012, the band were awarded the Classic Rock Outstanding Contribution Award for services to Rock music, possibly the first award they ever got in their long career. In 2015 they were the subject of Wes Orshoski's documentary The Damned: Don't You Wish That We Were Dead.
In 2017 the band announced plans to record their next studio album. In September they also announced the departure of Stu West, who was replaced by former bassist Paul Gray. In October 2019 they announced the departure of Pinch. Their current lineup includes Vanian, Sensible, Gray and Monty Oxy Moron. New drummer has not been announced so far. Their current sound can be described as Gothic Neo-Psychedelic Punk Rock.
---
Principal Members (Founding members in bold, current members in italic):
David Vanian - lead vocals, theremin (1976-present)
Raymond Burns (Captain Sensible) - bass, guitars (1976-1984, 1996-present)
Christopher Millar (Rat Scabies) - drums (1976–1996)
Brian James - guitars (1976-1978)
Laurence Burrow (Monty Oxy Moron) - keyboards (1996-present)
Andrew Pinching (Pinch) - drums (1999-2019)
Stu West - bass (2004-2017)
Paul Gray - bass (1980-1983, 1996, 2017-present)
Lemmy Kilmister - bass (1979)
Algy Ward - bass (1979)
Patricia Morrison - bass (1997-2004)
Roman Jugg - keyboards, guitars, backup vocals (1981-1989)
Bryn Merrick - bass (1983-1989)
Kris Dollimore - guitar (1993-1995)
Allan Lee Shaw - guitar (1993-1995)
Jason Harris (Moose) - bass (1993-1995)
Garrie Dreadful - drums (1996-1999)
Discography Of The Damned:
Albums of The Damned:
(1977) Damned Damned Damned
(1977) Music for Pleasure
(1979) Machine Gun Etiquette
(1980) The Black Album
(1981) Friday 13th EP
(1982) Strawberries
(1985) Phantasmagoria
(1986) Anything
(1995) Not of This Earth
(2001) Grave Disorder
(2008) So Who's Paranoid?
(2018) Evil Spirits
Singles of The Damned:
1976
1977

Neat Neat Neat
Stretcher Case Baby
Problem Child
Don't Cry Wolf

1979

Love Song
Smash It Up
I Just Can't Be Happy Today

1980

White Rabbit
The History of the World Part 1
There Ain't No Sanity Clause

1981
1982

Wait for the Blackout
Lovely Money
Dozen Girls
Lively Arts
Generals

1984
1985

Grimly Fiendish
The Shadow of Love
Is It a Dream?

1986
1987

Gigolo
Alone Again Or
In Dulce Decorum

1991
1995
2005
2010
2018
Standing on the Edge of Tomorrow
Compilations of The Damned:
---
Tropes of The Damned:
---