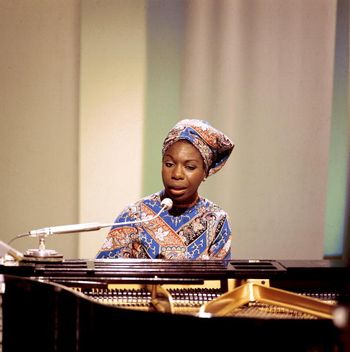 "My baby don't care for shows,
My baby don't care for clothes,
My baby just cares for me."
— "My Baby Just Cares For Me"
Eunice Kathleen Waymon, better known by her stage name Nina Simone, (February 21, 1933 – April 21, 2003) was an American singer, songwriter, pianist, arranger, and civil rights activist. She worked in a broad range of musical styles including classical, jazz, blues, folk, R&B, gospel, and pop.
Her musical style arose from a fusion of gospel and pop songs with classical music, in particular with influences from her first inspiration, Johann Sebastian Bach, and accompanied with her expressive jazz-like singing in her characteristic contralto voice. She injected her classical background into her music as much as possible to give it more depth and quality, as she felt that pop music was inferior to classical.
Her intuitive grasp on the audience–performer relationship was gained from a unique background of playing piano accompaniment for church revivals and sermons regularly from the early age of six years old.
---
Nina Simone provides examples of:
---