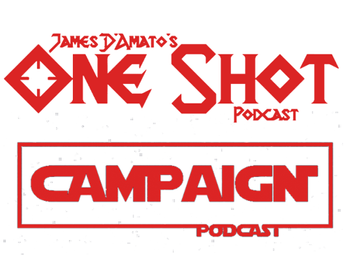 The One Shot Podcast
is a
Tabletop RPG
actual play
Podcast
created by James D'Amato and Kat Kuhl in 2013, focused on exploring the story-telling possibilities of RPGs with a new system and group of players every month (or sometimes every week).
James hosts and GMs most games, with players drawn mostly from the Chicago Improv scene. James also hosts Critical Sucess, a less-regular podcast with advice and discussion on RPGs aimed mostly at Game Masters.
In 2014, the two launched the Campaign Podcast, a sister production GMed by Kat which delves into the long-form style of roleplaying. The current campaign uses the Star Wars: Edge of the Empire system and stars the crew of the Mynock: Trystan Valentine (John Patrick Coan), Leenik Geelo (Johnny O'Mara) and Bacta (James D'Amato). These characters were first introduced in the six Star Wars episodes of One Shot, so it's best to listen to those before starting Campaign.
In 2015, James and Kat licensed the name Paracosm Press for their publishing company, and as of February 2015 are entering beta testing for their own roleplaying system, Epiphany, inspired by Groundhog Day and similar works.
In May 2015, James and Kat started a Patreon
to support their continued production and expansion of the network.
Both podcasts are joint productions of Paracosm Press and Peaches and Hot Sauce
. One Shot updates every Monday, and Campaign every other Wednesday. Episodes can be found here
or on iTunes.
For Campaign, see the individual series pages:
---
These podcasts contains examples of:
Campaign Podcast
One Shot Podcast