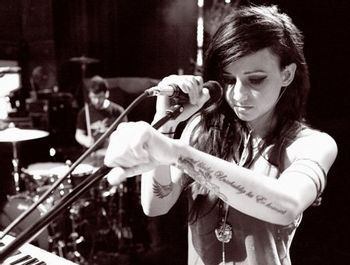 "Capture something invisible, organize it, give it movement, then spit it back from whence it came. Music is a dark, dark art."
— LIGHTS
Lights is a Canadian pop singer (born in 1987 as Valerie Anne Poxleitner) known for performing songs such as "February Air", "Saviour", "Ice" and "Second Go" during the late 2000s. She released her self-titled debut EP in 2008, and her first full-length album The Listening in late 2009.
She also wrote a song called Perfect
, but you probably didn't know that.
Her official website can be found here
---
Main Studio Discography
---
This singer provides examples of:
---