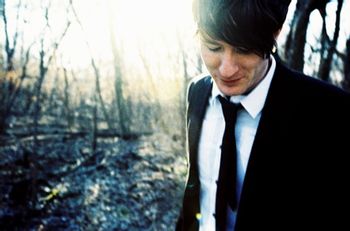 Owl City is Adam Young with a synthesizer, originally created as a way for Young to deal with his insomnia. After gaining a small cult following in the 2000s with his internet-released albums Of June and Maybe I'm Dreaming, he snagged a smash hit in 2009 with "Fireflies," a sweet little song about insomnia and the loss of childhood innocence.
Owl City's music is generally characterized by bubbly synth melodies combined with oddball lyrics about cutesy romance, nostalgia, ethereal musings and puns. Lots of puns! Depending on who you ask, these songs are either endearing or sickening. Nevertheless, the Young has otherwise enjoyed a reasonably successful career (though has yet to top his first big hit), particularly with providing theme songs to several animated features.
Yong has two other music projects, Sky Sailing (which is more acoustic indie rock) and a series of film-score-style instrumental albums (inspired by historical events) released under his own name.
---
Discography:
Of June EP (2007)
Maybe I'm Dreaming (2008)
Ocean Eyes (2009)
All Things Bright and Beautiful (2011)
Shooting Star EP (2012)
The Midsummer Station (2012)
The Midsummer Station (Acoustic EP)
Ultraviolet EP (2014)
Mobile Orchestra (2015)
Cinematic (2018)
---
This musician provides examples of:
---
How close to the ending? Well, nobody knows,
The future's a mystery and anything goes,
Love is confusing and life is hard,
You fight to survive 'cause you made it this far...
---