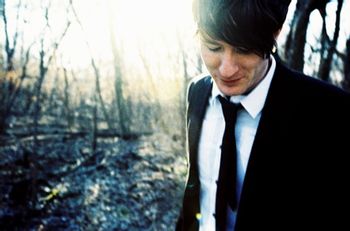 Owl City is an electropop project, and undoubtedly the most well-known among the several musical projects run exclusively by singer/songwriter/multi-instrumentalist Adam Young (born July 5, 1986).
The project was originally created as a way for Young to deal with his insomnia; he would compose melodies in his head while at his job and then record them in a studio in his parents' basement. He gained a following uploading his songs on MySpace, and after his first independent releases saw impressive success, he was signed to Universal Republic Records (now just Republic Records). His subsequent release, Ocean Eyes, would make the project a household name, containing several hit songs, the most popular being "Fireflies", a sweet little song about his aforementioned insomnia and the loss of childhood innocence.
Owl City's sound is generally characterized by bubbly synths combined with oddball lyrics about cutesy romance, nostalgia, ethereal musings and puns. Lots of puns. Depending on who you ask, this combination of elements is either endearing or sickening. Nevertheless, Young has otherwise enjoyed a reasonably successful career, particularly with providing theme songs to several animated features, though he has yet to top his first big hit. To his credit, "Good Time", his collaboration with Carly Rae Jepsen, did come fairly close.
Aside from this, Young also has two other projects: the acoustic indie rock act Sky Sailing and a series of film-score-style instrumental albums inspired by historical events released under his own name.
---
Discography:
Of June EP (2007)
Maybe I'm Dreaming (2008)
Ocean Eyes (2009)
All Things Bright and Beautiful (2011)
Shooting Star EP (2012)
The Midsummer Station (2012)
The Midsummer Station (Acoustic EP)
Ultraviolet EP (2014)
Mobile Orchestra (2015)
Cinematic (2018)
Coco Moon (2023)
---
This musician provides examples of:
Cue the Sun:

While not actually the sun, the Aurora-cloud thing in the "Vanilla Twilight" video glows more colorfully and brightly when Adam starts the last verse, and the onlookers react quite happily. It is, of course, fitting the lyrics:

"When violet eyes get brighter, and heavy wings grow lighter, I'll taste the sky and feel alive again."

A straighter example hinting the beginning of a journey is mentioned in "To the Sky":

"Travel light, let the sun eclipse you
'Cause your flight is about to leave
And there's more to this brave adventure
Than you'd ever believe..."
The Stars Are Going Out: Referenced in a lyric from "Honey and the Bee":

"Cause when the stars silhouette me I'm scared they'll forget me and flicker out..."

Also in "Shooting Star":

"When the sun goes down and the lights burn out it's time for you to shine."

Stock Animal Diet: The character in "The Bird and the Worm" compares himself and his lover's relationship to, rather gruesomely, the predator-prey relationship of a bird and a worm.

If you're the bird,
Whenever we pretend it's summer,
Then I'm the worm,
I know the part, it's such a bummer,
But fair is fair,
If my segments get separated,
I'll scream
And you'll be there

Subverted Rhyme Every Time: Happens in "Rugs From Me To You":

"And by the way, I just gotta say, / Thank the Lord I'm not going bald."

Super Not-Drowning Skills: "Explorers" is about this trope.

But the tide came in
And we found ourselves in the sea
Deep under water.
We both found that we could still breathe
So we spent the day submerged
And we swam the evening away.

Updated Re-release: Several songs in Ocean Eyes can be found on earlier releases with slight changes. For example, "The Saltwater Room" was originally on the Maybe I'm Dreaming EP.
Vocal Evolution: Adam's vocals on Of June are half-whispered and have an implacable Auto-Tune-esque effect on them. He starts projecting more with each successive release, although his slightly raspier voice on his more recent songs imply that a few years of improper singing techniques have taken their toll on him.
With Friends Like These...: "...well, who needs enemies?" ("The Bird and the Worm")
Word Salad Lyrics: Pretty much any given point of any of Adam's songs. In fact, it wouldn't be surprising to see someone compile a list of increasingly silly unconnected words to be used in just one of his songs.

Believe it or not, it has happened.
Apparently that is a way he comes up with possible song titles.
During his livestream listening party for his new album, The Midsummer Station, he says that "Hello, Seattle" was the first song he wrote, and that he wrote it by writing down the first things that came to mind. If it rhymes, it goes.
---
How close to the ending? Well, nobody knows,
The future's a mystery and anything goes,
Love is confusing and life is hard,
You fight to survive 'cause you made it this far...
---