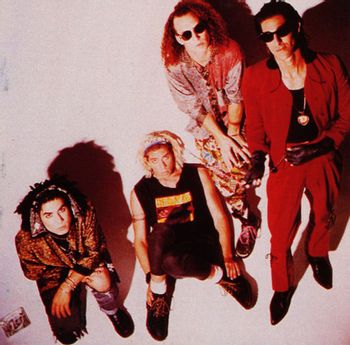 Señores y señoras,
nosotros tenemos más influencia con sus hijos que tú tiene,
pero los queremos.
Creado y regado de Los Angeles,
Juana's Addicción!
— Spoken-word intro of "Stop!" Translation
Jane's Addiction are an extremely influential Alternative Rock band, one of the first from that genre to gain a degree of commercial success and mainstream attention before Nirvana and grunge broke through, and the creators of the Lollapalooza festival in the early 1990s.
The band was formed in 1985 by vocalist Perry Farrell, guitarist Dave Navarro, bassist Eric Avery and drummer Stephen Perkins. They named themselves after Farrell's roommate Jane Bainter, who was addicted to drugs. They spent some time building up a following by playing various clubs in Los Angeles, attracting record company attention. They signed with Warner (Bros.) Records, but released their first record, the live album Jane's Addiction on an independent label in 1987.
The band went into the studio some time afterwards to record their first album, with Dave Jerden behind the mixing boards. The recording process was difficult, with Farrell quarreling with everybody else over wanting more royalties, and the album's cover depicting two naked female statues on fire got them attention from Moral Guardians. Still, Nothing's Shocking was released in 1988 to critical acclaim and commercial success, showcasing the band's fusion of numerous genres into a specific style (Alternative Metal with Funk and Psychedelic Rock influences), energetic performances and Farrell's unorthodox vocals. Heavy touring followed, solidifying their "rising star" status.
After the conclusion of tours, Jane's Addiction returned to the studio with Dave Jerden as producer once again. By this point, relations between band members had deteriorated so much that they recorded all their parts separately. Ritual de lo Habitual was released in 1990 to even more critical acclaim and commercial success, showing a progress from Shocking: more Epic Rocking was included and more experimentation with genres showed up besides the ever-present psych-funk-metal. The band even scored a hit single thanks to the catchy song about kleptomania "Been Caught Stealing".
The ensuing tour was marred by intra-band conflict (including one on-stage fight between Farrell and Navarro during a show), and after it concluded the band broke up in 1991. Farrell took the time to start the alternative rock festival Lollapalooza in the same year, and JA played at the first festival shortly before breaking up.
The band members went on to various side projects - Farrell and Perkins to Porno for Pyros, Navarro joined the Red Hot Chili Peppers for their derided album One Hot Minute, and Avery formed Banyan - and periodic reunions, one of which resulted in an album of all-new material, Strays. However, none of these reunions included Eric Avery and were generally short-lived. The band finally reunited for good with Avery in 2008, embarking on a tour with Nine Inch Nails. Then Avery left and was replaced on tour with Duff McKagan, of Guns 'N Roses and Velvet Revolver fame. Then McKagan left before they could enter the studio. Dave Sitek of TV On The Radio plays bass on their upcoming album.
Discography:
1987 - Jane's Addiction (live album)
1988 - Nothing's Shocking
1990 - Ritual de lo Habitual
1997- Kettle Whistle (a compilation of remixes, live tracks and rarities)
2003 - Strays
2011 - The Great Escape Artist
2013- Live in NYC (second live album)
---
Tropes which apply to Jane's Addiction:
---