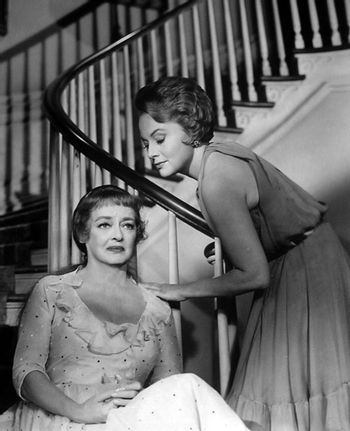 "Chop, chop, sweet Charlotte
Chop, chop 'til he's dead
Chop, chop, sweet Charlotte
Chop off his hand and head..."
Hush... Hush, Sweet Charlotte is a 1964 thriller film directed by Robert Aldrich and starring Bette Davis, Olivia de Havilland, and Joseph Cotten.
In 1927, Charlotte Hollis (Davis), teenage daughter of Louisiana plantation owner Sam Hollis, is on the verge of running away with a married man, John Mayhew (Bruce Dern). Her father is warned, however, and in an ugly confrontation browbeats John into giving up Charlotte. John dumps Charlotte at a party hosted by Sam that night, a heartbroken Charlotte runs away sobbing, and it's all very sad... until John is brutally murdered by useen assailant wielding a meat cleaver.
Skip forward to 1964. Charlotte is a weird old lady living in the same old dilapidated Hollis mansion, her only company being her maid/attendant Velma (Agnes Moorehead). No charges were ever brought forth in the Mayhew murder, but everyone assumes Charlotte did it. She is facing imminent eviction, however, as the state of Louisiana has made an eminent domain claim and is about to bulldoze her house to build a bridge. Her cousin Miriam Deering (de Havilland), Charlotte's last living relative, flies in from Europe to help Charlotte pack up her house, and simple country doctor Drew (Cotten) is on hand to calm down a perpetually jittery Charlotte. But strange things start happening in the Hollis mansion, the ghost of John Mayhew starts to appear, and Charlotte's grip on sanity grows increasingly shaky.
This film boasted an All-Star Cast that included all the actors listed above, as well as Mary Astor (in her last film role) as John's widow, Jewel Mayhew, and a young George Kennedy as a construction foreman. It was a Spiritual Successor to What Ever Happened to Baby Jane?, an Aldrich-directed film that also starred Davis, but with de Havilland in place of Joan Crawford—see below. De Havilland plays a role that is very very different from the goody-goody heroines that she played in the 1930s and 1940s. Meanwhile, the title song afforded 1950s pop superstar Patti Page (of "Tennessee Waltz" and "Doggie in the Window" fame) her last big hit record, right in the middle of the British Invasion.
The Troubled Production was dramatized in the 2017 series Feud.
---
Tropes: