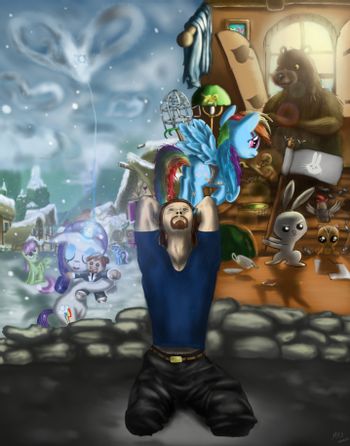 "Imagine that you had this affliction yourself, Lero. Let's pretend that you were swapped with... oh... a bodybuilder. A stallion who could lift 500-pound barbells every day. There you are, at the gym, compelled to lift these steel monstrosities. You memories insist you've been weightlifting for years... your heart insists you LOVE doing it! It's your calling in life! It shouldn't be impossible! So you keep straining, obsessively, to lift that 500-pound barbell, hour after hour, week after week, until one day, you tear your own musculature to shreds and your spine snaps in two! That's where all my friends are now. Destroying themselves slowly. And it's all my fault... for casting that
damnable spell
..."
- Twilight Sparkle
Divided Rainbow
is a recursive spinoff of AnonAuthor's
My Little Pony: Friendship Is Magic fanfic Xenophilia, written by Mike Teavee
.
Quite some time has passed since the conclusion of Xenophilia, and life could hardly be finer for one Bellerophon "Lero" Michaelides. Lero has fully acclimatized to life as the one human in a world of sapient polygamous ponies. If anything, the loving relationship he shares between Twilight Sparkle, Lyra Heartstrings and especially his lead mare, Rainbow Dash, has only gotten stronger. It's only a matter of time before the four herdmates finally get around to officially tying the knot!
Until one fateful day, Princess Celestia mails her faithful student a certain spell book, instructing her to find some way of finishing the incomplete spell on the final page. Twilight innocently tests the spell in front of the Elements of Harmony, resulting in all five of her Element Bearer friends swapping identities. But the situation is far more devastating than in the show, especially when romance and family are brought into play.
With Twilight stumped for ideas on how to set things right, Lero is forced to adapt to a world gone mad, and figure out how he's going to live with a fashionista-turned-weathermare, bewitched into believing she — rather than Rainbow Dash — has always been Lero's first and greatest love...
The following Recursive Fanfiction also has its own page:
The following April Fools' Day collaboration also has its own page:
---
Divided Rainbow contains examples of the following tropes:
open/close all folders
A - M
N - Y
---