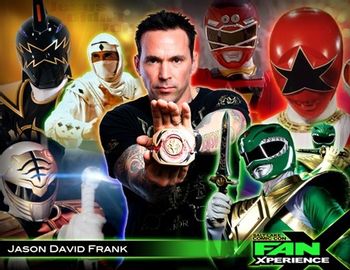 Jason David Frank (September 4, 1973 – November 19, 2022) was an American actor and martial artist.
His claim to fame was portraying Tommy Oliver, the original Green Ranger of the famed Mighty Morphin' Power Rangers as well as several other colors in numerous Ranger series.
In addition to being an actor, Jason owned his own karate schools and practiced professional Mixed Martial Arts, competing with a record of 5-0. He also held the Guinness World Record for breaking the most pine boards in freefall at seven, before Ernie Torres surpassed it at twelve.
On November 19, 2022, Jason passed away from suicide after struggling with depression, leaving us far too soon at 49 years old. He leaves behind his wife, four children, and a legacy of being not just a hero on television, but a hero to millions around the world.
---
Notable works he appeared in:
---
Jason David Frank's works provide examples of:
Long-Runner Cast Turnover: Jason was the main reason that this happened during Power Rangers Turbo. He wanted out, so they sent everyone else but Blake Foster with him.note
No Stunt Double: According to his Power Rangers: Dino Thunder cast mates, there were the stunt doubles, and there was Jason Frank. He also begged to do a rapids stunt in Turbo: A Power Rangers Movie to the stunt double's approval.*

Stunt Double: After the rapids stunt, he became less eager to do his own high-risk stuff, and during his last episode of Power Rangers Turbo, Tommy became magically Asian during wide shots of a car explosion.

Also people have asked if he did his own skydiving stunt in the film. He said he didn't because Sky surfing is incredibly dangerous and very few people actually do it, himself not included. He was reportedly looking for someone to teach him though.

Talent Double: JDF has specifically called out his snowboarding double from Power Rangers Zeo, who Jason himself picked because the double was worse than he was.

The Prankster: Just ask any of his cast mates, he would do things like secretly fill one cast member's trailer with all of the furniture from someone else's to standing off camera and make weird faces to try and get someone to start laughing. Johnny Yong Bosch claimed it got to the point some of the cast started calling him Jason "Prank" instead.
Promoted Fanboy: Jason was once into Transformers back in the day, years later he finally got to be part of the franchise in The Transformers: Titans Return as the one character that's known for piloting giant robots; Emissary.
Real-Life Relative: Jason's son, Jacob, was cast in a season two episode of Mighty Morphin' Power Rangers. Two seasons afterward his late brother Eric played David, Tommy's brother, in Power Rangers Zeo.
Remake Cameo: He appeared in Power Rangers (2017) as an Angel Grove citizen alongside fellow Mighty Morphin' alum Amy Jo Johnson.note Later outtakes showed he did an alternate cameo, with the same hairstyle as he'd worn during the series itself.
Role Reprise: On top of being the second-longest returning Power Ranger in the series (the first being Johnny Yong Bosch), he also took up the mantle of Green Ranger once more against Ryu in Super Power Beat Down, as well as playing the White Ranger once again against Scorpion in the same show, and he even managed to reprise his role for the Boom Comics Power Rangers comic book, in a trailer released in 2018.
Same Character, But Different: The Black Ranger in Power Rangers: Dino Thunder was originally called Dr. Edward Payne, just in case they couldn't get Jason back. Not much was actually changed between the switch from Payne to Tommy, which caused some discrepancies, the primary being that a Ph.D. in paleontology takes 8-11 years to get.
So My Kids Can Watch: The main reason Jason returned for Power Rangers: Dino Thunder was because of his daughter. (Apparently, he also did it because of ratings issues, at least according to History of Power Rangers.)
Suddenly Ethnicity: After he became Suddenly Native American on Power Rangers, and the fact that he actually looked it, Jason pulled off Suddenly Not Native American in real life.
What Could Have Been:

Jason was originally slated to star in VR Troopers, then titled Cybertron, before popularity brought him back to Power Rangers.
One of the producers on Mighty Morphin' Power Rangers, Jonathan Tzachor, wanted Tommy to die just like his counterpart in Kyōryū Sentai Zyuranger. He was overruled by his superiors (and presumably Fox Kids broadcast standards and practices).
He almost got the part of Len in Kamen Rider Dragon Knight, but the producers ultimately chose Matt Mullins instead, not wanting people to believe that Dragon Knight was connected to the Power Rangers universe. Interestingly enough, had he gotten the part as well as the above part in VR Troopers, this would have made Ultraman the only major Japanese Tokusatsu series* he had not starred in an American adaptation of* .
He was called up to appear in Mighty Morphin Power Rangers: Once & Always, but he turned it down, his first, last and only refusal of the call, partially, according to rumours, due to Saban Entertainment refusing to greenlight one of his projects, and partially due to the spec script they offered being almost identical to Legend Of The White Dragon, his personal pet project at the time.

Written-In Absence: Both times Tommy lost his powers on Mighty Morphin' Power Rangers, Jason Frank was more or less just written out of the show until he was written back in. * Then on Power Rangers: Dino Thunder, Jason had more time off than his cast mates (to work at his karate school), so his character became invisible, then stuck in his Ranger suit.
---