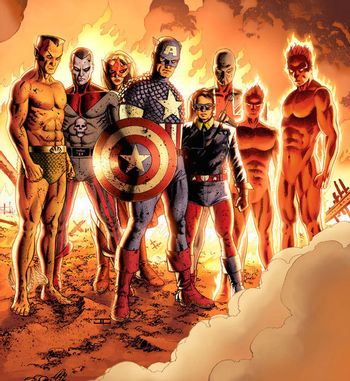 The Invaders is a Marvel Comics series about a team of superheroes that fought against the original Axis of Evil during World War II. The team originally consisted of Captain America and Bucky, Jim Hammond/the Original Human Torch and his sidekick Toro, and Namor the Sub-Mariner. They first appeared in The Avengers in the sixties, later gaining their own comic book series in 1975. A newer series was published in the early 2000s, in which several of surviving Invaders came out of retirement and joined up with some new members to fight terrorists inspired by their old enemies.
Although the team's members have varied several times, the most widely-agreed lineup (as seen in the page image) consists of Captain America, Bucky Barnes, The Original Human Torch, Toro, Namor the Sub-Mariner, the second Union Jack, Spitfire and the third Mighty Destroyer, as well as Golden Girl and Human Top forming the Kid Commandos with Toro and Bucky, plus the Whizzer, Miss America and Blazing Skull as unofficial members.
A new volume dubbed All-New Invaders was launched in 2014 as part of the All-New Marvel NOW! initiative, featuring several of the surviving members reuniting to deal with mysterious events linked to their past. All-New Invaders lasted fifteen issues, with the finale published on March 2015.
In Captain America: The First Avenger, this team was combined with the Howling Commandos. Essentially it's the Howlers but includes Captain America, Bucky and James Montgomery Falsworth (who was the first Union Jack in the comics).
Not to be confused with the TV show, The Invaders or the comic book series of the same name made by DC Comics.
---
Tropes found in the original series and the 2000's revival include:
---
Tropes found in All-New Invaders include:
---