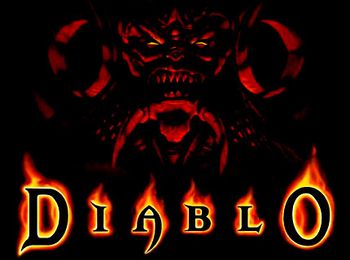 "Stay a while and listen."
— Deckard Cain
Diablo is an isometric Action RPG Hack and Slash game series from Blizzard Entertainment.
Notorious for having an elaborate backstory which nobody follows concerning a war between Heaven and Hell, Diablo is a huge dungeon crawl consisting of 16 floors of increasing difficulty under the old cathedral of Tristram, the only town in the game, where NPCs provide you with quests, healing, or equipment. The player has three characters to choose from: Warrior, Rogue, or Sorcerer. The goal is to reach the Final Boss, Diablo, at the very bottom of the dungeon and kill him.
As a sort of simple graphical roguelike, the pursuit of the perfect randomly-generated equipment and character build is the main draw.
The non-canonical third-party expansion pack Hellfire added eight new levels and four new quests: namely, a quest to kill another Diablo-esque baddie in the crypt near the church, a quest from Lester the farmer, a cow quest, and a quest to retrieve a teddy bear. Three more characters were also added: Monk, Bard and Barbarian. But you have to edit a text file to unlock two of those quests and characters.
The game spawned a heap of Sequels and Expanded Universe including:
Other Games
Meanwhile, the developers of the first two Diablo games, Blizzard North, resigned en masse and formed "Flagship Studios", which continued to produce Hack and Slash games, specifically Hellgate: London and Mythos. After Flagship folded, the same people formed "Runic Games", which produced Torchlight. All three titles can be considered Spiritual Successors to Diablo; they certainly all play similarly.
See also Baldur's Gate: Dark Alliance and its spiritual successor Champions of Norrath. A character sheet and a synopsis page are in the works.
The original Diablo, after being out of circulation for years, has been re-released on GOG.
---
Tropes found in the entire series:
Tropes found in Diablo I:
open/close all folders
A - F
G - L
M - R
S - Z
---