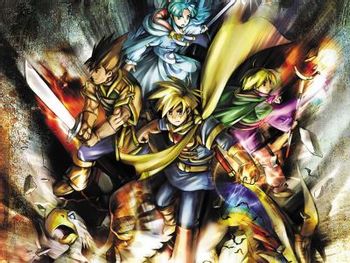 Golden Sun (known as Golden Sun: The Broken Seal in Japan) is a 2001 RPG from Nintendo and Camelot Software Planning for the Game Boy Advance. It is the first game in the series of the same name.
Golden Sun tells the story of Isaac, a teenager from the village of Vale, gifted with the power of Psynergy, and his journey to stop a dangerous group of antagonists from releasing the ancient power of Alchemy and to rescue his friend Jenna. The resulting journey takes him and three companions through many lands and cultures to the Elemental Lighthouses, the seals preventing Alchemy's release.
The sequel, Golden Sun: The Lost Age, was released in 2003.
---
Golden Sun provides examples of:
---