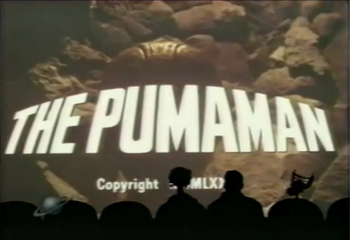 Film watched: Puma Man
"You know, I have almost no respect for pumas now. I now know that if I ever run into a puma, I can just push it the hell over."
The Segments:
Prologue
Segment 1
Down in Castle Forrester, Pearl is hosting a ball to celebrate her moving there. Brain Guy's not participating as he's watching Sliders with some friends. Servo continues to wear his ballgown in the theater.
Segment 2
Inspired by the movie, Mike tries to get the dry look from the Nanites, asking for someone other than Shelly after his past experience with her. Shelly doesn't take it well.
Segment 3
Crow and Servo, dressed up like Vadinho, tell Mike that he is chosen by the gods to be the mighty champion of justice, Coatimundi Man! Unfortunately, Mike is distracted from his destiny by cold sesame noodles, which he shares with Gypsy.
Segment 4
Mike find the Bots with an Aztec mask and a replica of Roger Whittaker's head. Their plan is to use the folk singer for their own gain, but Mike comes up empty with ideas.
Segment 5
Crow leaves the Satellite, but arrives back shortly. Pearl's ball is unsuccessful as all of the people arriving were only interested in Brain Guy's party. Roger Whittaker soon arrives, to Pearl's relief, but he instead tries to sneak away, lured by the strains of Asia he can hear from the other room. Pearl then takes his guitar and beats him up.
---
Tropes:
---
---