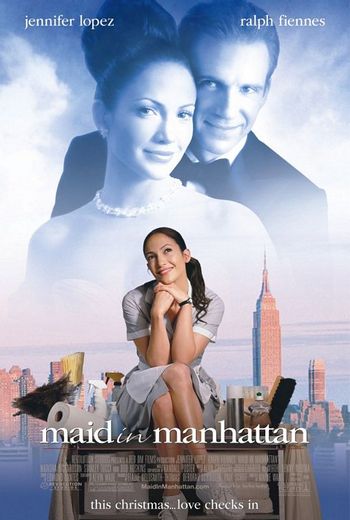 Maid in Manhattan is a 2002 Romantic Comedy directed by Wayne Wang, and starring Jennifer Lopez and Ralph Fiennes. The story was written by John Hughes, using the pseudonym Edmond Dantes.
Marisa Ventura (Lopez) is a single mother raising her son Ty (Tyler Posey) and working as a maid at the upscale Beresford Hotel in New York City. While Marisa and fellow maid Stephanie (Marissa Matrone) are cleaning the room of wealthy socialite Caroline Lane (Natasha Richardson), Stephanie convinces Marisa to try on an expensive outfit. Meanwhile, handsome, up-and-coming senatorial candidate Christopher Marshall (Fiennes) meets and befriends Ty, and they go to ask Marisa if Ty can go walking Marshall's dog in the park. Seeing Marisa in the expensive outfit, Marshall assumes that she is Caroline, and becomes attracted to her. She, likewise, becomes attracted to him. The two become entangled, but inevitably, sooner or later the real Caroline and the hotel management will find out what's going on...
Trope Namer of Mage in Manhattan, although the film does not exhibit said trope in any form.
The film is likely best known for outperforming Star Trek: Nemesis in their shared opening week, which was such an embarrassment to the Trek franchise that it killed the chances for any more films until J. J. Abrams' reboot series.
---
This film provides examples of:
A Lighter Shade of Gray: Caroline is (initially) kind and polite toward Marissa, especially in comparison to her Rich Bitch friend, Rachel. However, it's made pretty clear that even she sees Marisa as nothing more than a lower class citizen performing Ethnic Menial Labor. This is made exaggeratingly apparent when she is unable to recognize Marissa in her evening outfit and necklace. After all...

Caroline: I mean, where would a maid get that necklace?

Alliterative Title: Maid in Manhattan.
Ambition Is Evil: Marisa's mother seems to thinks so, discouraging her from applying her for a management position and blasting her for pursuing a relationship with Chris.
Artistic License: A business version. Marisa finds another housekeeping job quite quickly, which is highly unlikely given why she was fired from her last one, not to mention the ensuing public scandal.
Beauty Inversion: Attempted, by putting Jennifer Lopez in a maid's uniform and pulling her hair back into a ponytail or bun. Although she's still gorgeous, the improvement when she puts on a ball gown is noticeable.
Beneath Notice: Rich Christopher doesn't recognize Marisa the woman he's falling in love with is the same one that cleans his bathroom, something she calls him out for when the gig is up.
Big Applesauce: The film is set in New York. It's right there in the title.
Bilingual Backfire: Christopher and Marisa are gossiped about by two elderly Frenchwomen while sharing the elevator with them. He then pulls this trope by addressing them in French, much to their dismay—they call him a "pig", even though he has politely invited them to join them for a walk.
Bitch Alert:

Rachel Hoffberg, Caroline's BFF.
Marissa's mother. She means well, but she's a bit too judgemental.

Brainless Beauty: Caroline is very attractive, but something of a flake who's utterly oblivious to the fact that Christopher is completely uninterested in her.
Can't Get Away with Nuthin': Marisa is shown to be an exemplary employee who is being considered for a management position. The one time she breaks the rules—trying on a guest's clothes—it kicks off a chain of events that results in her being fired and hounded by the press regarding her relationship with Chris.
Charity Ball: Chris invites Marisa to a museum benefit, after which they consummate their relationship.
Chekhov's Gun: The beautiful Harry Winston wreath Marisa wears at the ball is what gets her caught. Caroline admires it on the ballgown wearing socialite that she meets at the ball—and recognizes it on the sweatshirt-wearing woman she sees sneaking out of Chris's room the next morning.
---