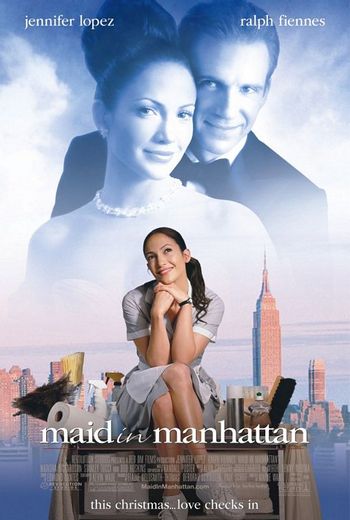 Maid in Manhattan is a 2002 Romantic Comedy directed by Wayne Wang, and starring Jennifer Lopez and Ralph Fiennes. The story was written by John Hughes, using the pseudonym Edmond Dantes.
Marisa Ventura (Lopez) is a single mother raising her son Ty (Tyler Posey) and working as a maid at the upscale Beresford Hotel in New York City. While Marisa and fellow maid Stephanie (Marissa Matrone) are cleaning the room of wealthy socialite Caroline Lane (Natasha Richardson), Stephanie convinces Marisa to try on an expensive outfit. Meanwhile, handsome, up-and-coming senatorial candidate Christopher Marshall (Fiennes) meets and befriends Ty, and they go to ask Marisa if Ty can go walking Marshall's dog in the park. Seeing Marisa in the expensive outfit, Marshall assumes that she is Caroline, and becomes attracted to her. She, likewise, becomes attracted to him. The two become entangled, but inevitably, sooner or later the real Caroline and the hotel management will find out what's going on...
Trope Namer of Mage in Manhattan, although the film does not exhibit said trope in any form.
The film is likely best known for outperforming Star Trek: Nemesis in their shared opening week, which was such an embarrassment to the Star Trek franchise that it killed the chances for any more films until J. J. Abrams' reboot series.
---
This film provides examples of:
---