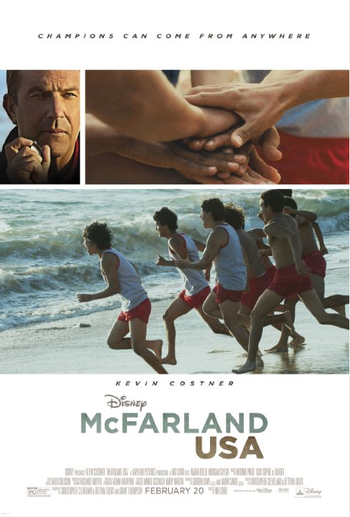 Principal Camillo
: Have you ever coached cross country?
Jim White
: No.
Principal Camillo
: Have you ever coached track?
Jim White
: No.
Principal Camillo
: You have competed in high school maybe.
Jim White
: No.
Principal Camillo
: Well you sound perfect.
A live-action Disney movie starring Kevin Costner, this 2015 film set in the late 1980s opens on the downward spiraling career of high school football coach Jim White (Costner). He has been fired from several jobs, and eventually ends up in the titular town (the only place that would hire him). His family struggles to fit into the low-income Hispanic culture, and White struggles to reach the students and faculty. He eventually turns from football to cross country (even though he has no experience in the sport), and turns his Ragtag Bunch of Misfits into a competitive, driven team.
Known outside the U.S. as simply McFarland, the film is based on real-life events, and does a good job of showing the lengths White has to go to to understand, connect with, and eventually unite his students. Expect lots of Sports Story Tropes, of course, but it's a well-paced movie, about a very different sport than usual.
---
This film provides examples of:
Principl Camillo: I have to put up with petty vendettas, the school board and quit smoking. What am I, Superman?
Kid from opposing team: Nice shorts, man.
Thomas: You play golf?
Kid from opposing team: Yeah.
Thomas: This ain't golf.
---