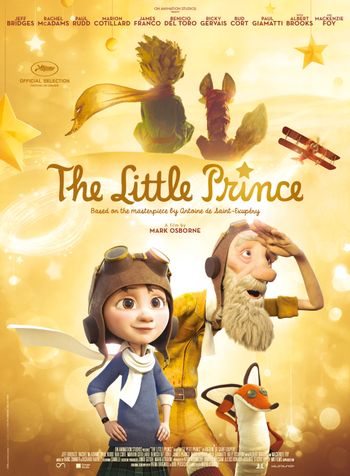 "Growing up is not the problem, forgetting is."
— The Aviator
The Little Prince (Le Petit Prince) is a 2015 film adaptation of the children's book by Antoine de Saint-Exupery.
Not an entirely straight adaptation, this movie adds a Framing Device where The Aviator, presumably the Narrator of the original story, presents his encounters with The Little Prince to a girl who just moved in next-door.
The movie premiered in May 2015 at the Cannes Film Festival, followed by a July theatrical release in France. It was planned for a United States release in March 2016, but it was canceled by Paramount just a week before its scheduled release date, with distribution given to Netflix instead. The film was released on Netflix on August 5th, 2016. Netflix's license to the film eventually expired in May 2021 and the film has since become available on other services.
Promos: French trailer
, international trailer
, Netflix trailer
.
---
This movie adaptation contains the following tropes:
---