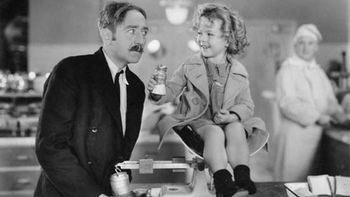 Little Miss Marker is a 1934 comedy film based on a short story by Damon Runyon, directed by Alexander Hall and starring Shirley Temple and Adolphe Menjou.
Big Steve Hallaway (Charles Bickford), a gangster and gambler, puts his horse Dream Prince in a race that Big Steve arranges to lose, while betting on another horse. "Sorrowful" Jones (Menjou) is a low-level bookie who is an associate of Big Steve and helps him implement this scheme. A rather sad, desperate man at the racetrack approaches Sorrowful to place a bet on Dream Prince. When Sorrowful won't take the man's IOU ("marker") for a $20 bet, the man hands over his six-year-old daughter Marthy Jane (Temple) as collateral.
Dream Prince loses, as intended, leaving Sorrowful in temporary possession of little Marthy. Marthy's father then kills himself off-screen. Sorrowful is preparing to call the cops about Marthy when another complication arises: racing authorities, rightfully suspicious that Big Steve might have pulled some shenanigans with his horse, ban him from horse racing. Big Steve has a plot in which he will inject Dream Prince with a "speedball" stimulant to help win the next race, but now he needs to find a new owner to serve as a front man. Enter Sorrowful, who proposes making Marthy the titular owner of the horse. Further complications of a personal variety arise when Bangles Carson, Big Steve's girlfriend (Dorothy Dell), starts to take a maternal interest in Marthy and a romantic interest in Sorrowful.
Little Miss Marker was one of Shirley Temple's first big roles and it propelled her to superstardom. She soon became the biggest box-office draw in Hollywood. It might have been a Star-Making Role for Dorothy Dell also if Fate had not intervened. Dell, only 19 when she appeared in this film, was cast opposite Gary Cooper and Temple in the film that became Now and Forever, but tragically died in a car accident only a week after this film premiered.
It has been remade three times: as Sorrowful Jones (1949), a musical version starring Bob Hope and Lucille Ball; as 40 Pounds of Trouble (1962), which features a Setting Update and stars Tony Curtis and Suzanne Pleshette; and as Little Miss Marker (1980), starring Walter Matthau and Julie Andrews.
---
Tropes:
---