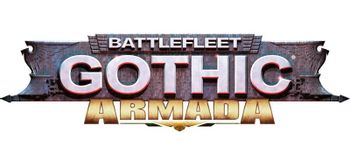 Battlefleet Gothic: Armada is a space battle Real-Time Strategy developed by Tindalos Interactive and based on Games Workshop's specialist game Battlefleet Gothic and set in the Warhammer 40,000 universe.
The game's setting is set during the Gothic War, in which Warmaster Abaddon has launched the 12th Black Crusade against the strategically important Gothic Sector (held by the Imperium of Man). His goal is to acquire the Blackstone Fortresses, ancient and massive space stations with highly destructive capabilities. But in order to activate them, he must first find two devices, the "Hand of Darkness" and the "Eye of Night".
The game features a single-player campaign with the player in control of the Imperial Navy. Other factions such as the Forces of Chaos, Eldar Corsairs and Ork Freebooterz are available to play on Skirmish and Multiplayer modes. The Space Marines and Tau Empire were released as DLC fleets.
In January 2018, a sequel was announced: Battlefleet Gothic Armada 2. It is set during the recent Gathering Storm story arc and will feature 12 immediately playable factions, including the Tyranids, Necrons, Dark Eldar, and Adeptus Mechanicus. The first trailer
.
This game provides examples of the following: