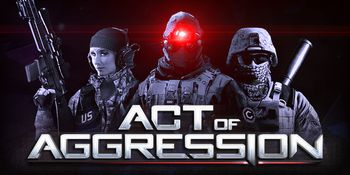 Act of Aggression
is a Real-Time Strategy game from Eugen Systems, the minds behind notable titles such as the Wargame series, RUSE, and Act of War, which this game is a Spiritual Successor to. It aims to return players to "the Golden Era of RTSs" and features all you would expect from a classic RTS: build bases, gather resources to fund your operations, fortify your bases with defenses, build up your army and destroy your foes as you play as one of three distinctive factions, each with their own tech trees and play styles featuring Real Life weapons and technology as well as theoretical prototypes.
Much like its predecessor, the core story revolves around an elite taskforce, aided by the US Army, as they fight against a powerful N.G.O. Superpower hellbent on subjugating the world under their rule by manipulating the economy and instigating conflicts.
In the year 2025, the entire Chinese financial system collapsed in an event referred to as the "Shanghai Crash", plunging the world into the worst economic recession since The Great Depression. Third World Countries were the most badly affected and, combined with dwindling natural resources and increase in civil unrest, were on the brink of collapse. Taking advantage of this vulnerable state, an elusive military industrialist organization known only as the Cartel, made up of influential politicians, corporations from the media and financial sectors, and Private Military Contractors, were able to infiltrate the failing governments and implant their own puppet governments, ruling over the nations it now controls in an aggressive fascist manner. Their main objective however, is to overthrow the US government and placing it under their rule. In response, the US deploys its military to combat them. While still very much the strongest military power in the world, the US Army is exhausted by multiple deployments into endless conflicts worldwide and crippling budget cuts have led to equipment wear and restriction of development into new technology. Morale and discipline has also deteriorated.
Meanwhile the Transnational Crime Organization, a unit of the United Nations tasked with cracking down on global criminal activities, still suspects that the Shanghai Crash was orchestrated. Investigations unfortunately led to dead ends and insufficient evidence hampered progress regarding the case. Investigations were eventually ceased and is now regarded as a mere Conspiracy Theory. That still didn't convince the TNO otherwise and the "Chimera Protocol" was signed in secrecy, an agreement where member nations would provide intelligence and military support for the investigation, which would become crucial in combating the Cartel's growing influence.
The game was released on September the 2nd, 2015. You can see the teaser trailer here
, the pre-alpha gameplay trailer here
, the US Army trailer here
the Chimera Trailer here
, the Cartel Trailer here
and finally, the Launch Trailer here
.
Act of Aggression contains examples of:
---