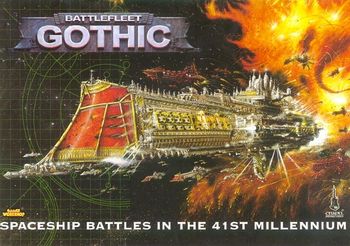 What happens when the people behind Warhammer 40,000 decide to make a Wargame about spaceships?
Battlefleet Gothic takes everything cool about naval combat throughout history, and mixes it with the gothic aesthetic and unending, chaotic grimdarkness of the Warhammer 40,000 universe. Joyfully embracing Space Is an Ocean in every way possible, the game throws together vast hypertech spaceships, Napoleonic line tactics and broadsides, torpedoes and torpedo boats, sailing, planet-splitting weapons, ramming and boarding actions, Old School Dogfights, sea shanties and alien monsters.
The Imperial Navy, the focus of much of the game's art and background, is the very definition of Cool, but Inefficient. Imperial capital ships are millennia-old vessels resembling kilometres-long Gothic cathedrals, with spikes and spires for sensor masts, covered with pointless bling in the form of giant skulls or mile-high statues of eagles made of solid gold. They are filled with millions of press-ganged ratings and chanting priest-mechanics, loading gigantic shells by the back-breaking labour of thousands and unloading broadsides from gun decks the size of towns. Maintenance is ritualised, tech-adepts praying to machines they don't understand, anointing them with sacred unguents and beating them with holy wrenches. Warships are so old, so vast and so complex they develop their own cultures; entire societies of feral humans, the descendents of lost crewmen, lurk in forgotten decks.
The rulebook focuses on one campaign in particular, the twenty-year Gothic War, Abaddon the Despoiler's 12th Black Crusade against the Imperium. This scheme involves the Gothic Sector being cut off from the rest of the Imperium by warp storms, a lot of spiky warships, and six ancient space stations known as the Blackstone Fortresses. As with all of Games Workshop's Gaiden Games, Battlefleet Gothic enjoyed several months of publicity in stores and White Dwarf magazine before essentially dropping off the radar, new rules and models only occasionally being brought out. A supplement entitled Battlefleet Gothic: Armadanote not to be confused with the later computer game of the same name was released in 2003 that collated rules published in various official magazines and introduced a number of new factions, such as the Tau and the Dark Eldar, as well as a number of new ships for the existing factions. The supplement also included background and scenarios for fighting battles during the Third Armageddon War and the 13th Black Crusade. The game was published by Games Workshop's Specialist Games division until it, along with the rest of the Specialist Games line, was discontinued in 2013.
It did, however, remain one of the most enduringly popular spinoffs the studio had ever produced, helped in no small part by focusing on what was otherwise a critically-ignored part of the 40k universe and having ships with a much different aesthetic sense compared to others in its genre; fans of it therefore tended to like it passionately, and it remains more or less tied with Necromunda as the most beloved of GW's spinoff games. Thanks to this, even after the tabletop line was discontinued, multiple video game adaptations were greenlit and became reality: a Real-Time Strategy game series for PC, titled Battlefleet Gothic: Armada (and its numbered sequel), and a Turn-Based Strategy mobile game, Battlefleet Gothic: Leviathan.
Being set in the Warhammer 40,000 universe, the game features a large number of the tropes on that page, as well as employing setting and gameplay tropes of its own.
---
Battlefleet Gothic provides examples of the following tropes:
Space Pirates: Orks and some Eldar, there are rules for the other factions to field a piratey force, excepting Space Marines.
Space Sailing: Eldar ships, who fill their sails with solar winds. This means they need to adjust their movement based on their position respective to the system's sun, and can tack in space.
Space Station:

The game includes rules for numerous types of space stations that can be purchased for various scenarios, from the basic orbital defence stations available to every faction, the massive Ramilies Star Forts and fleet specific stations such as Tau Orbitals.
The Blackstone Fortresses are the most iconic space stations in the game with the entire narrative story of the original release ultimately revolving around them. Powerful xenos artefacts of mysterious origin, the Fortresses were converted into powerful centres of power for the Imperial Fleet until Abaddon unlocked their secrets and active their powerful, star killing weaponry. Rules for both Imperial and Chaos controlled Blackstone Fortresses were included in the original game, with additional rules for their most powerful weaponry released in later supplements.
Spiritual Successor: Battlefleet Gothic was an updated follow-up to the short lived 1991 Gaiden Game Space Fleet with the original development name for the game even being Space Fleet Gothic.
Standard Sci-Fi Fleet: As a general rule, all ships fit into five categories: Escort, Light Cruiser, Cruiser, Battlecruiser, and Battleship. Chaos had the sole Grand Cruiser until expansions happened. Some fleets are weighted towards the light or heavy end, and the Space Marines notably only have Strike Cruisers (basically a light cruiser) and Battle Barges (basically a battleship), but almost all ships fit the standard.
Supernatural Fear Inducer: Some Tyranid hive ships emit a constant psychic reverberation that can induce a state of sheer terror in the minds of the crew of ships that approach too close. The Psychic Scream Evolutionnote reduces the Leadership of nearby enemy vessels.
Tractor Beam: The Ork Fleets Grunt Assault Ship is a more sophisticated version of the Brute Ram Ship that incorporates a massive traktor field reactor that not only increase the damage done when it rams into an enemy but also allows it to stick to the enemy vessel so that the mobs of Ork Boyz it carries can perform a more effective boarding action. On the downside, the poorly distributed mass of the ship considerably reduces its manoeuvrability.
Turn-Based Strategy: Players take turns moving, shooting, and doing other things to try and make their fleet come out on top.
Unnecessarily Large Interior: Even with a crew of 100,000 and cavernous machinery spaces, it's hard to come up with ideas that fill the volume of a cruiser that's four miles long and a kilometer wide. On an Imperial cruiser, the fuel tank alone is the size of 50 Nimitz class aircraft carriers. Entire societies of troglodytes and alien parasites live in the forgotten bilges of Battlefleet Gothic capital ships.
Units Not to Scale: And then some! Specifically, the rulebook flat-out admits that the models are not to scale with the game environment (or necessarily with each other), but that they're designed in such a way that you can build and paint them to look pretty. Actual distances are measured from the "stem" which holds the actual model to its base, representing the much smaller area of space the ship actually occupies. Ships in base-to-base contact are "close" (i.e., a few thousand kilometers apart) while the shortest-range of weapons, 30 centimeters, may be capable of firing across millions of kilometers of space.
Wave-Motion Gun:

The Armageddon Gun mounted on Abaddon's flagship, the Planet Killer, is one of the most powerful weapons in the game capable of destroying anything and everything in its line of fire.
The Warp Cannons of the activated Blackstone Fortresses unleash a beam of pure Immaterium, bypassing a ship's shields and tearing apart anything it hits. When multiple Warp Cannons combine their fire they are even capable of destroying stars.

We Will Use Manual Labour in the Future: On Imperial ships, the enormous shells are loaded into the cannons by crowds of press-ganged sailors.
Weapon Running Time: Torpedoes move a set distance (usually 30cm) every turn, which means that at long ranges they're more useful for limiting enemy movements than actually attacking.
You Have Failed Me: Abaddon the Despoiler's "You have failed me for the last time..." special rule means that if a vessels from his fleet fails a Command check while using his re-roll, Abaddon's ship will fire on the offending ship or squadron with at least half its weaponry. Should Abaddon's own ship fail a test despite his re-roll, it will take a point of Damage as his retinue slaughter a portion of the crew.
---