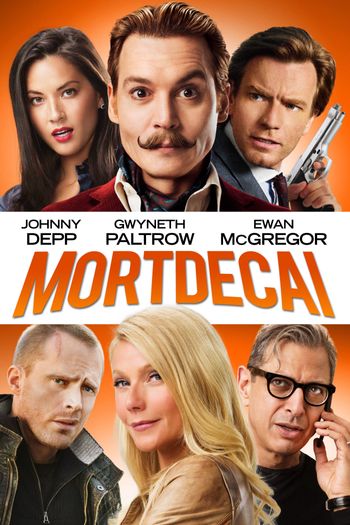 "I won't beat about the bush, Mortdecai. You are clearly an awful man."
Mortdecai is a 2015 comedy film based on the 1972 cult novel Don't Point That Thing At Me by Kyril Bonfiglioli directed by David Koepp and starring Johnny Depp, Paul Bettany, Gwyneth Paltrow, Ewan McGregor, Jeff Goldblum, and Olivia Munn.
British art dealer Lord Charlie Mortdecai (Depp) and his wife Johanna (Paltrow) owe £8 million in back taxes and is on the verge of having his estate repossessed in lieu of payment when he is approached by Scotland Yard Inspector Martland (McGregor) and tasked with locating a stolen painting in exchange for having his debt forgiven. Together with his manservant Jock (Bettany), Charlie travels from London to Moscow to Los Angeles and back to retrieve it with disastrous results at every turn.
This film contains examples of the following tropes:
---