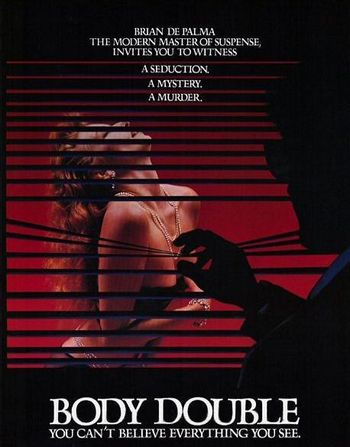 "I like to watch."
A 1984 erotic neo-noir thriller directed by Brian De Palma, starring Craig Wasson, Melanie Griffith, Gregg Henry, Deborah Shelton, and Dennis Franz.
An actor named Jake Scully (Wasson) is struggling with claustrophobia (which cost him his most recent job in a horror flick)—and has found out his girlfriend is cheating on him. Left without a place to stay, Scully accepts a job as a house-sitter for a futuristic house with a 360 view of the Hollywood Hills. The best part is a neighbor has a tendency to striptease in her bedroom, visible for an eager voyeur. All well and good...until Scully notices that he isn't the only one watching.
His investigations leads to a murder mystery, which brings him smack-dab into the adult-film industry, encountering a porn star (Griffith) who may or may not provide a key clue as to what's going on.
Famous for 1) its constant Homage to Alfred Hitchcock (particularly Rear Window and Vertigo); 2) its show-stopping sequence featuring "Relax" by Frankie Goes to Hollywood (which was a major hit but banned in the UK, and this film was the only way some audiences got to hear it); and 3) its intense invocation of Fanservice.
---
This film contains examples of:
---