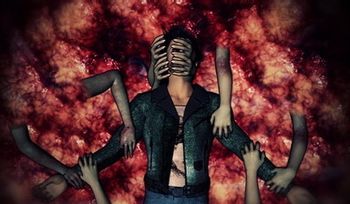 "They say a dog's supposed to be man's best friend..."
Where the Dead Go to Die is a surreal Psychological Horror CGI animated film by James "Jimmy ScreamerClauz" Creamer, and produced by Unearthed Films, with a cast and aide from individuals such as musician Passenger of Shit and animator Emily Youcis.
It is an anthology of three short films:
The film has become somewhat... notorious for its subject matter and the plethora of horrific imagery the film is plastered from start to finish. It contains disturbing amounts of Gorn, nudity, and controversial topics such as child pornography, sometimes all at once. If you are easily offended, watch this film at your own risk.
---
Tropes related to this film:
Eye Scream: Happens to the Hooker as the result of a John's war flashback.
Fan Disservice: Any instance of eroticism in any of the shorts is packed to the gills with this, thanks to the animation and the fact that it's horror.
Light Is Not Good: The Keeper Of Man's Fears and the Creator Of His Woes is a Humanoid Abomination with a fireball for a head.
Limited Animation: The whole film was done from the director's home, with hobbyist-level software and jerry-rigged, consumer-grade hardware.
Manipulative Bastard: Labby the hell-hound, she easily manipulates a vulnerable young boy to do heinous acts.
---