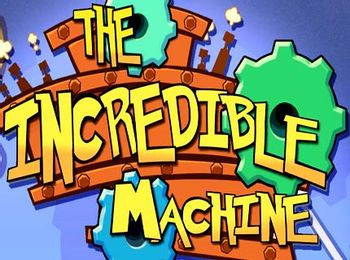 "Blow up the fish tank with the missile."
— Professor Tim
A Puzzle Game developed by Dynamix and published by Sierra Online for DOS in 1992, The Incredible Machine (AKA "TIM") centers around the construction of Rube Goldberg Devices. The player is provided with a predetermined set of parts to use in order to achieve the given objective. There are over 100 puzzles to complete, each of varying difficulty, but custom puzzles and machines can also be made (with full access to all the parts in the game). Many parts are available, ranging from the simple (gears and ropes) to the downright bizarre (alligators and blimps).
The game's family-friendly quality and subtle moments of humor and satisfaction led to widespread popularity. Over the course of nine years, seven more titles were released for DOS, then Windows PCs, and the series has since been a recipient of several awards.
For the more modern variant, see Crazy Machines or the Creator-Driven Successor from the team that worked on the original game, called Contraption Maker.
The Incredible Machine contains the following tropes:
---