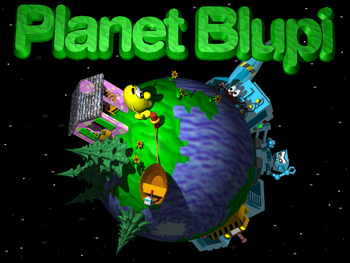 Planet Blupi
, developed by Daniel Roux and Denis Dumoulin (succeeded by Mathieu Schroeter in 2017), is an isometric
Real-Time Strategy
Puzzle Game
for Windows released in 1997 by EPSITEC.
The plot is as follows: A spaceship has crashed into the titular planet, causing a brief fire and alerting the Blupis. A blue robot comes out of it and begins building his own factory complex and tries to wipe out the entire Blupi population to claim the entire planet.
The gameplay involves you, the player, giving commands to Blupis to perform various tasks, from simply walking to building things. A Blupi has his own Life Meter, signified by the blue ring around his feet and the usual blue (red if low) gauge on the HUD, both if he's selected. The Life Meter depletes whenever he performs a task, and if it gets low (red), the Blupi will turn into a Tired Blupi, who moves really slowly and is unable to perform most tasks until being fed with tomatoes. If it gets too low, the poor Tired Blupi will immediately stop moving after walking a single tile regardless of the distance you want him to travel, and he'll keep doing this until he runs out of energy and dies.
Despite the simple gameplay, the game consists of 30 missions in the main campaign, which gets increasingly harder (except for the last one) and requires more thinking and puzzle-solving, as well as strategy-building and quick reflexes when it comes to anticipating incoming enemies.
The game's full version comes with a Level Editor in the form of the "Construction" mode, which allows you to create up to 20 custom missions.
A sequel in the form of Platform Game Speedy Eggbert was released a year later.
This game is now open-source
, being rereleased for free to celebrate its 20th anniversary. It's also compatible with Linux and macOS now. The Twitter account BlupiGames
(Facebook page goes here
) posts updates not only regarding this game, but also other Blupi-related news and information (including few mentions of
this very page
). The game's updates can also be tracked in this GitHub page
.
---
This game provides examples of:
---