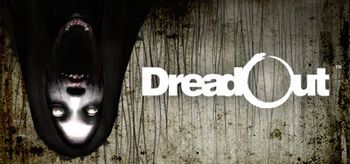 "We are all dying waiting for you to get here."
DreadOut is a Survival Horror game from an Indonesian indie developer called Digital Happiness. When a group of high school students go astray from their field trip, they discover an old, deserted town and quickly realize that something sinister seems to be happening. Linda, the main protagonist, soon discovers that she suddenly has a spiritual power that can - perhaps - save her and her friends from the unknown.
The gameplay is based on taking pictures of the ghostly enemies to fight them, much like the Fatal Frame series. However, the gadgets used here are modern inventions like smartphones and digital cameras rather than something vintage. Also, the game is based on Indonesian folklore ghosts and takes place in a rural Indonesian town. As usual for the genre, the game contains exploration and puzzle-solving.
Available on Steam here
. After a demo/tutorial that was later integrated as Act 0 in the game proper, Act 1 was released in May 2014, and Act 2 in February 2015. Before the game itself came out, two spin-off digital comics were released; one takes place around the same time as the game but involves a different cast of characters, while the other is set during the Indonesian war for independence.
A stand-alone Interquel called Keepers of the Dark was released on March 24, 2016. Taking place just prior to the final boss fight, it elaborates on a missing period of time and provides a few more hints to the larger story.
A spin-off game for Virtual Reality devices, called DreadEye VR, was released in November 2017. In it, the player takes the role of a dukun (an Indonesian shaman) and performs rituals to summon and face spirits. It is set in the same universe but has no direct connections to the story of DreadOut.
A sequel was announced in September 2018 and released on Steam on February 21, 2020
.
A live action movie adaptation has been released in Indonesia on January 3rd, 2019.
---
This game provides examples of:
---