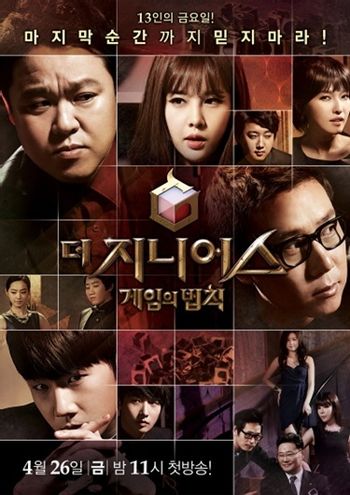 Beautiful defeats and ugly victories
The Genius (Korean: 더 지니어스) is a South Korean reality game show broadcast on cable channel tvN. The first season began airing on April 26, 2013. The show proved to be a hit for tvN and subsequently, three other seasons were aired.
The Genius brings together 13 contestants from various areas to compete for the top spot in rounds involving various games. In every episode, a contestant is eliminated following a main match and a death match. The winner of the main match will gain a token of life guaranteeing their advancement to the next round and in some cases, receives an additional token of life to give to another player as well as a predetermined number of garnets. The worst performer in the main match is automatically sent to the death match, and is allowed to choose anyone without a token of life as their opponent. The winner of the death match gains their opponent's garnets (only in Seasons 1 and 2), and the right to stay in the game.
Format changes
Season 2: A token of immortality was added to the game, with clues given to each main match winner.

It was eventually found by Sangmin

.
Season 3: The winners of the death match are given a black garnet. When three black garnets are presented a, black mission can be attempted which would save the player from the death match if completed.

However they become a non-factor as none of the missions are completed successfully and the remaining black garnets are traded for normal garnets at the beginning of the tenth episode

. The loser's garnets are also taken out of the game instead of being taken by their death match opponent.
Season 4: Besides being an all-stars season, S4 introduced 3 "Garnet Matches" where the person with the most and least garnets will be the winner and death match candidate of the episode respectively. Also, all of the death matches have been played before and are now chosen by lottery with contestants able to veto those they don't wish to play.
Season one is subtitled Rules of the Game (게임의 범칙)
Season two is subtitled Rule Breaker (룰 브레이커)
Season three is subtitled Black Garnet (블랙 가넷)
Season four is subtitled Grand Final (그랜드 파이널)
The show has become popular enough to have several podcasts dedicated to recapping and discussing it. These include:
Alternatively, you can also read episode recaps here.
An English-subbed version of all seasons can be found here: http://bxrme.tumblr.com/
---
Tropes found in The Genius include
Will Not Tell a Lie: Jinho doesn't betray people, instead relying on his individual skills.
Wham Episode: Monopoly Game is an episode with big repercussions not only for the rest of a season but for the rest of the series.
---