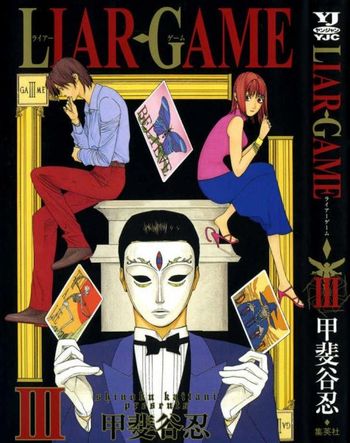 "This is the LIAR GAME... A game about deceiving others. I'm just doing what it takes to win."
Written by Shinobu Kaitani (also the author of One Outs), Liar Game is a manga and drama series about the struggles of Nao Kanzaki against a mysterious and nefarious organization called the Liar Game Tournament Office that places innocent people through psychological games using their debt as bait. All its members wear masks and any participants of the game are free to drop out, assuming they pay their debt which the game forced upon them. With debt that frequently is in the 100 million yen range and quite often more, it's no small deal. Said organization will also collect the debt "any way possible..."
Using the help of recently released conman/genius/Chess Master Shinichi Akiyama, Nao seeks to rid herself of debt and also save those who are participating in the games. Expect all kinds of plans and cunning to apply here, as it is a Battle Royale of wits.
This story has a prequel called Liar Game: Roots of A, which has a one-shot chapter that deals with the backstory of Akiyama and contains several other unrelated one-shots.
---
This series provides examples of:
Absurdly High-Stakes Game: Losing the Liar Game gets one saddled with at least a debt of 100 million yen, and since most of the participants aren't wealthy people, they cannot pay their debts and will end up sold. However, this is eventually subverted, as the Liar Game is a False Crucible.
Arc Words: "This is the Liar Game; it's a game where you lie."
Attractive Bent-Gender: When Fukunaga gets dolled up, she's pretty much the hottest woman in the series.
Author Tract: The manga is not subtle about its point: Your enemies are not other people struggling, your enemies are the powers that force you to compete when there's enough for everyone. An interpretation for the ending is that you can't wait for someone to show this to everybody, but that you have to believe it and act accordingly and that's the only way to fight the evil in the world.
Awesomeness by Analysis:

Akiyama, being a former conman, is very skilled at reading and manipulating people. As he explains to Nao, to really understand someone you have to "doubt them".
After Character Development, Nao herself becomes quite good at this, in a different way than Akiyama: he is the best at reading people's thoughts, Nao is better at understanding their feelings.

Bag of Holding: Yokoya carries around one hell of a lot of cash in that little black bag of his, doesn't he? You might think he simply carries round lots of bags instead, but he's a little bit on the puny side...
Batman Gambit:

Before it dissolves into a Gambit Pileup between Akiyama and Yokoya, the third round begins with a series of these simpler gambits.
Later, during Bid Poker, Akiyama's plan to

trick Kimura

is this in spades.

Battle Couple: Despite not actually physically fighting together, Nao and Akiyama make one amazing team of wits and skill.
Beware the Honest Ones:

During the second Revival Round, Nao Kanzaki demonstrates she is fully capable of deception once she has sufficient reason and a plan to back her up, either hers or someone else's. She manages to outwit Fukunaga and

rope her into helping Nao win her match

.
Later, during the Pandemic Game, Nao

cheerfully lies to Yokoya about who is in which examination room so that Yokoya's attempt at bribing neutral players hits her allies instead

.
And once again, during the final round,

she tells everyone that there's a rich guy who's willing to bail everyone out of their debts. She technically wasn't lying, but it's actually the set-up for an even larger con that essentially broke the Liar Game.

Big Bad: Once Norihiko Yokoya makes his appearance in Round 3, he quickly establishes himself as the toughest competitor in the Liar Game, and goes on to become the Arch-Enemy of Nao and Akiyama. In Round 4, he competes against the elderly cult leader Takashi Harimoto. Later on, Harimoto turns out to be a figurehead for his supposed right-hand woman Kimura, and Yokoya himself is "merely" The Heavy for Artlier, the Chief Executive of the whole LGT Office. However, both can be considered non-evil Big Bads, as Kimura wanted to save her boyfriend from debt while Artlier/Tad Miyagi wanted to use the Liar Game to provoke rebellion against the corrupt government.
Breaking Speech:

After the end of the Contraband Round, Yokoya gives one of these to Akiyama, explaining that even if Akiyama "won" their battle, Yokoya managed to actually profit by pushing all the debts on his own teammates, who Nao and Akiyama were actually trying to help.
Immediately after that, Nao counterattacks with a Breaking Speech of her own: the fact that Yokoya "won" by being a Smug Snake and

betraying the people who followed him

means that he failed at following his own stated "way of life" of an "absolute ruler". This is enough of a sore point that Yokoya

falls for her bluff and decides to stay in the game just to take revenge on Nao, which is just what she wanted

.
During the Bid Poker game, Yokoya uses a particularly effective one to

psychologically corner the other players by playing with their worst fears of what will happen if they lose

. They basically become his minions afterwards.
At the beginning of the last round, Nao does it again to Yokoya.

Yoyoka explains that he lives on his father's philosophy that "a person's worth is decided by how many people he controls." Nao then deconstructs this by pointing out that if he's living by his father's philosophy, then that means that he has no worth of his own since his father controls him.

Again, this has very important consequences on Yokoya's behavior later on.

Breaking the Fourth Wall: Happens a couple of times, when characters take the time to explain their schemes.

"Fine, I'll go back and explain things since you're slow, and for our readers, since they didn't see what happened."

Briefcase Full of Money:

Played straight in the first round and averted from then on, since in other games the money is given in the form of rare gems, check-like objects or poker chips.
Invoked in the third round, whose scenario involved smugglers sneaking money past customs in briefcases.

Bully Hunter: Akiyama will always give his opponents a chance to do things the easy way to get the best result for all the players. Once the opponents reveal themselves as greedy people willing to cheat, lie and ruin others to get a profit, Akiyama takes off the gloves and mops the floor with them.
Butt-Monkey: Forli (dealer of Pandemic Game) is the goofiest among the LGT officials, and frequently "falls" for Akiyama's or Yokoya's tricks despite not actually participating in the games. Even Leronira has been known to play him as a fool at times.
The Cake Is a Lie: Yokoya enforces a points-based loyalty scheme during the Contraband Game, encouraging the members of his team to spy on one another and report disloyalty and promising rewards to those who score the highest points. Fukunaga correctly assumes that Yokoya is not keeping count at all, and is just telling everyone they are hovering around 4th place to spur them into spying on one another and feeding Yokoya information.
Central Theme: Cooperation and honesty are better than competition and deceit. If we all work together we can all get what we need instead of come getting a lot and some getting nothing.
Character Development:
Chess Master:

Akiyama serves as the "brain" in his collaboration with Nao and uses various mind games and psychological traps to help her steal all of the opponent's money in her first few rounds of the game.
Fukunaga, as Akiyama's first real rival, manages to manipulate almost all players during the Minority Rule round.
Yokoya, the series' Big Bad, has an intellect that rivals Akiyama's and even gets the better of him during their first encounter in the third round.
In the Musical Chair arc we are introduced to Harimoto, a cult leader who manages to get a head start in the games by duping Akiyama, manipulates one of Yokoya's lackeys into helping their group and becomes an exceedingly dangerous threat for both of them. During the Bid Poker round, it's revealed that

the real mastermind of his group is Kimura

.

Chronic Backstabbing Disorder:

The rules of the game encourage this. To have a chance at winning, you have to create alliances with other players. But if you want to really profit, you have to betray your allies.
Yokoya is a very notable example of this. This is not surprising, considering he's been raised to believe that "rulers" have no friends or allies, only subjects and enemies, and that you either are a "ruler" or you are worthless.
Yokoya and Harimoto repeatedly betray each other during their three-way-battle with Akiyama in the Musical Chairs round.

Chronic Hero Syndrome: Nao's main drive is to save everyone in the games. She doesn't take several chances of leaving the Liar Game without debts because she wants to help other players.
Combat Commentator: Several in most games, but especially the third round and the second revival round; used to explain what the chessmasters are doing.
Convenient Miscarriage:

"Office Lady" Mikamoto

had a affair with her boss and got pregnant, but then lost the child.
Conviction by Counterfactual Clue: Subverted Trope. Akiyama explains how you can use "psychology facts" to read people's lies, but it's later revealed that

it was part of his play to discover the trick behind Yokoya's phony mind-reading

.
Crash-Into Hello: Nao and Akiyama's first meeting.
Cult: Harimoto's cult teaches that humans were once pure and good but then bred with demons, creating "demonic dominant" and "demonic recessive" bloodlines. One's position in the cult is determined by how pure his ancestry is, which of course is determined by the head of the cult with his supernatural powers.
Curb-Stomp Battle: During the Russian Roulette of the second Revival Round, Fukunaga crushes her opponent quite handily until

Nao convinces her to tie the game on purpose

.
Death by Origin Story: Both of Akiyama's parents were gone by the end of his backstory, and Nao's mother at the end of hers.
Defeat Means Friendship:

Played straight with Fukunaga, who becomes the Token Evil Teammate after being defeated a couple of times and by the end

has become a legitimately good person

.
Subverted with Yokoya, who recruits people he has defeated into his team only because their fear of him makes them perfect subjects.
Deconstructed and reconstructed with Akiyama and Nao's other allies. The heroes manage to create a team with people they have defeated during the Revival Rounds, since they have seen Nao's sincerity in her desire to save everyone. Still, the pettiness and greed of the players leave them open to traps and manipulation. In the end, though,

the team holds on thanks to Nao's trustworthiness

.

Department of Redundancy Department: In Revival Round 4, Game B (the one with Fukunaga and Yokoya, not Nao and Akiyama), a player gives us the following gem about Yokoya.

Bleached Ponytail: That just proves you're a lying liar who lies!

Did You Actually Believe...?: Oftentimes, players would use this line to their opponents, after lying to them or betraying them. After all, this is a game where you lie, so it is Justified.
Divided We Fall:

Happens frequently in the third round due to Akiyama and Nao's teammates being self-serving, not-terribly-bright cowards.
Nao believes this is the entire point of the Liar Game - everyone can avoid falling into debt, but only if they all stop struggling together. This happens most directly

in the second Revival Round, in which the players can actually make a net profit if they call a truce and thus stop the dealer from having an opportunity to reclaim chips

.

Driven to Suicide:

Akiyama's mother committed suicide so that her son could use her life insurance money to pay off their debts and continue his education.
The four women in Harimoto's group were on the verge of killing themselves before they were "saved" by the cult.

Dumb Is Good: Subverted Trope. Early on Nao seems very stupid and naive, and always needs Akiyama to save her. When Akiyama convinces her that doubting people is not a bad thing, though, she starts becoming a Guile Hero herself, and in the second Revival Round she even

takes advantage of her innocent and naive demeanour to trap another competitor, while also trapping the person she used to set it up this very gambit

.
Dynamic Entry: Right when Nao lost hope in the first Revival Round, having been deceived by Fukunaga and abandoned by the other competitors, Akiyama appears from the window, which is definitely not on the first floor.
Even Evil Has Standards:

Fukanaga snaps at one teammate who suggests that Nao should be the one to give up her seat in the Musical Chairs round, angrily pointing out that it's unfair to put Nao in that tight spot when she isn't in the room in the first place.

Though it's possibly subverted when it's immediately pointed out that Fukunaga has a vested interest in keeping Nao in the game due to having an extra two of Nao's medals and thus would win more money if Nao were to be the final victor. However Fukunaga also showed that despite herself, she did believe Nao to be a friend so how much of either influenced her snapping is up to interpretation.

Subverted by Yokoya. At one point, he's seen reading a copy of Mein Kampf. He mentions to an aide that though Adolf Hitler's speeches and rhetoric are study-worthy, some of his actions were despicable. What actions are these? Committing suicide before his plan was complete.

Evil Gloating: Villains and Unwitting Pawns often do this when they think they have the upper hand.
Evil Cannot Comprehend Good: Yokoya simply cannot understand why Nao and Akiyama want to save everyone from the game.
Evil Counterpart: Yokoya and

Kimura

to Akiyama, and

Harimoto

to Nao.
Explain, Explain... Oh, Crap!: Near the end of

the final round

, Yokoya has seemingly accomplished all his goals.

Akiyama and Nao have lost, and while he also lost, he's made enough money to both leave the game safely and fulfill his father's challenge.

However, one of his lackeys then points out that the remaining players are stuck in a tie, and that if this keeps up, both remaining teams will be down to one life, and when that happens, neither team will want to make the last move out of fear of losing, meaning that the game might last forever. As both teams head towards this worst possible scenario, Yokoya looks over at Akiyama, whose smirk confirms that, yes, this was indeed All According to Plan.
The Extremist Was Right: Turns out all the LGT Office wanted to do by forcing players into Absurdly High Stakes Games was get them to learn to trust each other, and broadcast that to the populace of Japan to unite them against the Government Conspiracy.
Failure Gambit:

If you lose a round of the Liar Game, you can collect your eventual earnings or are forced to pay off your debts. If you win, you have to go on to the next round unless you pay half of your earnings to Opt Out. This means the most effective way to "win" at the game is to make sure your balance is positive and than avoid winning. On the other hand, it's possible to "win" a round while still losing money, which means you have to hope you'll make up for it in the next rounds.
Akiyama's scheme to defeat the Office is

to become the winner of the tournament without earning anything, and instead accumulating an enormous debt on himself... a debt that the Office would have no way to reclaim

.

False Crucible:

The ultimate truth behind the Liar Game itself. As Yokoya correctly surmises, the Liar Game was set up exactly like the games in a book. What is revealed in more detail later is that the Game was set up to try and determine the outcome the author intended for his third volume, which went unpublished due to his death, and bring hope to humanity by seeing them overcome doubt.

Fanservice:

Nao's bra size certainly has been increasing as time goes on...
Akiyama shirtless scenes probably counts.
Fukunaga has the Most Common Superpower; outdoing most other cast members.

Flashback: Used during explanations to describe any backroom dealings during the game.
Fiction 500: The LGT office, which has enough cash to loan out 100 million yen simultaneously to hundreds of players. The games' spaces are not cheap, either. Palaces, high technology, islands. Actually, they often admit that places are on rent (or squatted, possibly) and not their own, but still there are tons of cash spent around.

Later on, it's reveled that the leader of LGT received a bribe from "The Unknown Government", containing 5 BILLION in Singapore Dollar (Approx 3.75 BILLION in USD ). This is the main reason why LGT can support all those expenses, and also excuse all the debts from the players.

Fighting Your Friend:

In the last game, Yokoya manages to forcibly recruit Nao to his team, and in doing so pits her against Akiyama.

Flaw Exploitation: Every successful player does this. Even

the rather naive Nao

.
Flunky Boss: Harimoto uses the Undying Loyalty of his followers to ensure that he always has a stable of allies who will support him without question. This gives him an enormous advantage in a game where never knowing if your allies will betray you is the whole point.
Freudian Excuse: The reason behind Akiyama being a ruthless swindler is because his mother, always honest, was Driven to Suicide by a Multi-Level Marketing organisation. As a result he became a revenge-seeking antihero fighting fire with fire until he met Nao, whose honesty reminded him of his mother and laid the path to his redemption.
Freudian Trio:

Nao: Superego. She's always concerned about reaching the best outcome for everyone.
Akiyama: Ego. He's reasonable and is always trying to balance Nao's ideals with practical concerns.
Fukunaga: Id. She's mainly in for herself, but can be moved to compassion.

Fortune Teller: Harimoto used to be a street fortune teller, apparently excelling in cold reading, before he gained enough followers to actually form his own cult.
Gambit Pileup:

The entire series.
The Contraband Game becomes this between Akiyama and Yokoya. It gets complex fast, expecially after it's revealed midway through the match that the optimal outcome of this game is not to win but to lose with more money, and therefore each team should really be trying to channel their money into an ATM to which they don't have direct access.
The game for the fourth round, Musical Chairs, has three, possibly four chessmasters vying for power. In the end,

one of the chessmasters turns out to be serving as a proxy for Akiyama

.
Again in the Bid Poker round, this time between Akiyama and

Harimoto's group, led by Kimura

.
Obiviously happens again in the last round, where

Yokoya appears to be winning handily while Akiyama is actually trying to bring the game to a deadlock

.

Genius Thriller: The series is about the characters trying to outsmart one another, and also about Nao trying to outsmart the system.
Ghost Leg Lottery: In Round V of the tournament, the remaining contestants' player numbers are determined by having them draw legs on a ghost leg screen and then choose a start point.
Good All Along: The entire LGT Office is actually trying to show The Power of Trust to Japan and convince them to rebel against a Government Conspiracy.
Good Is Not Dumb: Nao starts off extremely naive, honest and easily manipulated. As the game continues, however, she grows out from her naivety and becomes a better player in the games while retaining her good heart.
Gratuitous English: "Liar Game." "Money." "Doubt."
Graceful Loser:

At the end of the Bid Poker round,

Harimoto

becomes this after witnessing how Nao's kindness managed to win the loyalty of all the other players involved in the round. He is actually glad for his loss, as it allows him to open his eyes to his own wrongdoings.
Surprisingly,

Yokoya

at the end as well.

Greater-Scope Villain: The powerful government who silenced the author of the Liar Game novels and interrupted the original Liar Game out of fear of the people learning how to trust each other and rebel against them. The Big Bad Artlier is trying to overthrow them.
Heart Is an Awesome Power: After getting over her initial naivete, Nao becomes one of the most dangerous players in the Liar Game because of her honesty. The other players eventually realize that she actually means it when she claims that she wants to save everyone, thus making her the only person who anyone can reliably trust, making her a Magnetic Hero capable of holding together alliances between the normally self-serving players. And when she does decide to deceive people, she turns out to be pretty good at it, partly because nobody expects her to be able to pull it off, let alone try in the first place, until it's too late. She has even Yokoya doing exactly what she wants him to do because he underestimates her capacity to deceive him, and she knows exactly how Yokoya works and which buttons to press.
Heroic Sacrifice: During the events of the B block's Bid Poker game,

Fukunaga gave up all her money to save Kaneko — at that time the only person who refused to join Yokoya

, so that the latter could continue the next round with excess money, while

Fukunaga

herself was eliminated from the game for her loss.
Hoist by His Own Petard: The Liar Game has been funded by

the bribe intended to silence the creator of its previous iteration

.
Idiot Ball:

Used occasionally, whether to simply provide someone clueless to whom the Combat Commentator can explain the situation or for actual plot purposes.
Most secondary characters grab it at least once, expecially when they try tricking one of the actually competent conmen.
At the beginning, Nao grabs it very often... to the point that her adversary believing she has it becomes a big part of Nao's plan during the second Revival Round.

I Know You Know I Know: It's often a part of the Gambit Pileups, since in most of the games players have to work with incomplete information and can't verify what other players say.
I Lied: Gets said countless times in various forms, mostly using the phrase "This is the Liar Game; it's a game where you lie."
I Never Said It Was Poison: During the Minority Rule round,

the fact that Fukunaga knew that the stolen money was in the form of a check rather than cash told Akiyama that she was Mr. X

.
Inevitable Mutual Betrayal: Nearly all alliances. This is the reason why the protagonist Nao is so important - with her naive and righteous attitude she can serve as The Heart for her team, because she is the only one in the game anyone can ally with reliably.
Jerk with a Heart of Gold: Akiyama seems this at the beginning, when he basically forces Nao to beg him for help. After a short while, though, the "jerk" part has been removed... unless you have been a jerk to other players yourself.
Kansas City Shuffle: Without a doubt the most important trope of the series.

That's how Akiyama manipulates others: he uses their knowledge, or lack of it, to his advantage.
That's also why everyone feels trapped in the games of the LGT: no one really knows what happens to the people who lose the games, and no one really want to find out.

Kick the Dog: Yokoya opts to squeeze hamsters, when we need to see just how evil he is.
Knight in Sour Armor: Akiyama doesn't share Nao's idealism, but he still goes to greath lengths to do the right thing.
Know When to Fold 'Em: At the very end of the Liar Game's final round,

Yokoya suddenly starts helping Nao and Akiyama with their rebellion against the LGT. He realized that it was the only way he had to come out of the situation looking like a hero rather than a loser

.
Loophole Abuse: The dealers expect this to happen during several games. Expecially notable during the Contraband Game, where a team can achieve true victory only through this.
Lost Him in a Card Game: Implied, as the LGT makes a few vague comments about the money being paid back "one way or another", and though this method is not stated outright, the amounts of money being wagered are far too high to be paid off through ordinary means. Subverted in the end as that was never the LGT's intention.
Love Triangle: Apparently, there's one building up now between Nao, Akiyama, and

Fukunaga

. It's pretty obvious that Akiyama only regards

Fukunaga

's feelings with awkwardness, but it's unclear how he feels about Nao...
The Magic Poker Equation: Justified; because of the special seventeen-card decks being used, the weakest possible hand in the entire game is a pair of Jacks, so it's not surprising that the players routinely pull off amazing hands.

Even more notable once Kikuchi becomes able to manipulate the shuffling to put the Joker into his hand every time, guaranteeing a three-of-a-kind or better. Then by the ninth hand, Akiyama figures out how to guarantee a four-of-a-kind.

Malevolent Masked Men: The higher-ranked LGT Officials wear creepy white masks, and continue to wear them even when they are hidden in a separate room to comment on the game's progress.

It's later revealed they do so to

protect their identities, as all the higher-ranked officials are the players from the first Liar Game

.

Man Behind the Man:

During the Musical Chairs round,

Akiyama is revealed to be the true mastermind behind Young Jump's Extra Alliance

.

"Artlier" is the man behind the whole corporation and Yokona's superior, given that Yokona's father is the dealer Rabelais.

In the Bid Poker round, it's revealed that Kimura is the real Chessmaster of Harimoto's group. Harimoto is more of a charismatic figurehead to her.

Manipulative Bastard: Harimoto's way to bring new people in his cult: he finds them when they are utterly broken and on the verge of suicide, and offers them a new (false) hope.

And Kimura was the one who taught him to do this in the first place.

Master of Disguise: Akiyama uses this trope in the first chapter to avoid the paparazzi waiting for him when he gets released from prison. When a prison who looks nothing like Akiyama appears to leave instead of him, a nearby guard explains that Akiyama is one of these, prompting the paparazzi to chase after the man. It then turns out that Akiyama disguised himself as the guard.

Akiyama latter uses this to help Nao win the first round of the Liar game by sending their opponent a notice with the wrong time the LGT will show up, and shows up at that time as someone who looks like they could be from the LGT. Since at this point nobody knew that the LGT were supposed to look like Malevolent Masked Men, the plan goes off without a hitch.

Meaningless Villain Victory:

During the last game, Yokoya manages to defeat Akiyama and Nao's teams, preventing them from saving the other players. Then Akiyama's plan deadlocks the game before its end.

Mr. Exposition: Leronira is usually the one to explain Akiyama's plans to his fellow masked officials. Some of the others, like Nearco, make useful contributions to the discussion, but Leronira is usually the one who makes the concluding statements about the Gambit Pileup when the round ends.
Nebulous Evil Organisation: The Liar Game Corporation, who regularly lends the participants sums upwards of 100 million yen (about US $1.5 million). Mind you, everyone has to pay it back eventually, but still...
Nerdy Bully: Norihiko Yokoya is a scrawny guy who, in his high school years, used his intelligence and monetary power to establish a social pecking order on campus that allowed the members of the "higher" order to bully the people from the "lower classes".
The Nicknamer: Before the Pandemic Game, the LGT gives all the players a nickname to make it easier to keep track of them.
Oh, Crap!: Every Unwitting Pawn when they realize it. Also most villains when they are defeated.

Yokoya in chapter 179 when he realizes Akiyama has just the plan to deny him the chance to not only crush him but also get joy from watching Akiyama and Nao fight each other. He has an even bigger example when Akiyama puts this plan into motion one chapter later.

The Omniscient Council of Vagueness: Leronira and the other LGT Dealers act like this in their backroom discussions, though they are a bit more expressive and inquisitive than the usual version.
Opt Out: The LGT relies on people doing this to make their profits, since people opting out get to keep half of their winnings while losers have to pay back the entirety of their debts.
Out-Gambitted:

Kikuchi in the second revival round. He was very confident that his keen eyesight could help him win the poker game, but Akiyama overcame his disadvantage in vision by a far superior analytical skill.
At the end of the Contraband Game, Akiyama has been outgambitted by Yokoya: Akiyama's team won and Yokoya's team lost, but Yokoya is the only player who managed to make a profit by pushing the losses on his teammates. The only thing that prevents it from being a complete loss is

Nao managing to trick Yokoya into staying in the game because of his pride

.
Basically every round ends with everyone but the winner being this.

The Plan: Every game involves this trope, in some form. Most games involve several plans by several groups of people.
Ping Pong Naïveté: Nao, after Character Development. She gets some moments where she shows she has become more competent, but she often makes the same errors she was making in the first chapters.
Prequel: The manga short Roots of A looks at Akiyama during his senior year of college.
Power of Trust: The only thing that can give you a real advantage during the games. Also, it's the main reason why the "Unknown Government" has gone to such lengths to prevent the novel (and subsequently, the Liar Game show) from getting out. They want its citizens to remain divided.
Restored My Faith in Humanity:
Retcon: In the first ten episodes of the Drama's first season, the LGT Office is vague and mysterious, just like in the Manga, with no leader in sight. The eleventh episode

plugs a man named Hasegawa into the role at every turn, rewriting the reason why Nao and Akiyama were even thrown into the Liar Game

. And THEN, the second season reveals that

Hasegawa wasn't even the creator of it; he just invested a lot of money, despite the first season stating specifically that he was, with Leronira coming to him for instructions

.
The Reveal:

Every arc ends with a big reveal, after which the manga usually needs an entire chapter for Akiyama to explain how he managed to do the amazing thing he just did.
At the very end it's revealed that the Liar Game is a social experiment/Enforced Method Acting documentary based on a famous in-universe book series under the same name. The original writer was assassinated by his government since his trilogy was meant to instill an uprising, but the two books that were now in the public domain could be used as a model to recreate the events in the story, revealing the core theme that was supposed to inspire the masses into a revolution. Unfortunately, the production was halted 18 years prior to the story since said government started terrorizing / assassinating the people involved. After 18 years in hiding and 5 billion Singapore dollars in "compensation now shut up" from said government, the film director decided to try again, using the bribe as his budget for the entire series. Nao and Akiyama ended up solving the mystery of the book series by creating their own uprising: it's not about human will, it's about human trust, and the LGT Office was Good All Along.

Revenge Before Reason: Mizuki Kaneko goes this route instead of quitting the game, to avenge Fukunaga.

Or at least she pretends to, as part of a scheme to help Akiyama and Nao.

Russian Roulette: The second Revival Round has a (harmless) variant of this.
Series Continuity Error: Near the end of the Minority Rule game, Akiyama's nameplate, which he

had given to player 15

, reappears on Akiyama for one panel before he gets it back.
Schoolyard Bully All Grown Up: Yokoya for Kikuzawa (and, indeed, Kikuzawa's entire school).
Screw the Money, I Have Rules!: Nao and Akiyama run on this, constantly giving back their large winnings, and even incurring massive debts of their own to save the opponents they just defeated.
Screw the Rules, I Have Money!: Yokoya's modus operandi, since he was very rich before starting the game. It's also the last trick up his sleeve in the Pandemic game, where

it backfires spectacularly

.
Sequel Hook: At the end of the series the Liar Game ends after being revealed to be a False Crucible, the events are put up on the internet to be viewed by all, only to be removed within hours. At this, Akiyama states that the darkness of the world runs far deeper than they can imagine.
Ship Tease:

"Basically, I'm just another one of Kanzaki Nao's belongings" is the loophole Akiyama uses to enter the first Revival Round to rescue Nao and let her cry into his shirt when all hope seems lost.
Not to mention this little scene where Akiyama takes Nao's hand to demonstrate something. "Will you do the honours?" She does mention that she felt shy when he took her hand.
There is the panel where Nao looks concerned and wonders whether Akiyama went to sleep from exhaustion during the fourth round's night break.
The fact that especially in the beginning, Akiyama would always come to Nao's rescue and help her out with little to no personal profit.

Shout-Out:

In the first Revival Round, one player talks about the Lycaons, a fictional baseball team from One Outs, another manga by Kaitani.
The protester in chapter 201 looks a lot like "Tank Man".

Shown Their Work: It's obvious the author looks very deeply at each game.
Smug Snake: Fukunaga during the Minority Rule and Restructuring arcs, though she gets better and becomes an ally.

Yokoya likes to think of himself as The Chessmaster or a Magnificent Bastard, but his gross overconfidence and condescending attitude towards his enemies quite often keep him from succeeding. This can be seen in the Pandemic Game as well as

the Liar Game finale

.

The Smurfette Principle: Nao and Fukunaga are the only female characters on the "good" side. Since Fukunaga is transgender and many characters treat her as male, Nao embodies this trope. Lampshaded during the fourth round, where the LGT assigns her the nickname "the only girl".
The Social Darwinist: Yokoya's father is a Self-Made Man who built his fortune from scratch and believes that people are divided into those who rule and those who are being ruled - a philosophy he has instilled into Yokoya as well.
Sorting Algorithm of Evil:

The first round's major opponent is Nao's middle school teacher, who's not particularly clever. The second round has Fukunaga, while the third round has Yokoya. In the fourth round, the opponent is the Big Bad Duumvirate/Ensemble of Yokoya and Harimoto. The fifth and last round has Yokoya as an enemy again, after he

managed to learn in advance what the game would have been, becoming even more dangerous

.
Subverted in Revival Rounds, that are more or less in-universe Breather Episodes. In these rounds the opponents are still very dangerous, but usually less dangerous than in the previous round.

Spanner in the Works:

Akiyama sees Nao as this in regards to the Liar Game's objective to make money.
The "Extra Alliance" in the Musical Chairs game throws a major wrench into the until-then three-way battle with Harimoto, Yokoyo, and Akiyama.

Sudden Downer Ending: Well, more like Sudden Bittersweet Ending but... after the end of the last game, the LGT admits defeat and excuse all the debts from the players, and the Liar Game show is going to be aired on the internet. This will show the masses the incredible power of "trust". But in the last two pages of the manga, it's revealed that the "Unknown Government" has so much influence it can bully the entire internet into deleting the video on the day of release.
Taking You with Me: This turns out to be

Yokoya's

plan in the final round. The remaining finalists have been split into four teams, and Yokoya managed to get Nao on his team and Akiyama on another. Then he teamed up with the remaining two teams to take down Akiyama's team and then make his own team lose. He's already rich, so he can get out of his debts easily, but Akiyama and Nao will both lose, which is all he wants by this point. However, he failed to take into account Akiyama tricking the remaining two teams into forcing the game into a deadlock.
Took A Level In Planning:

Nao. Fukunaga comments on this in the fourth round break.

"Is this really the same Kanzaki Nao who easily got duped by me just a while ago?"

And then Yokoya, of all people. He goes from scarily competent to

accurately predicting the game of the third revival round, right down to the exact name and workings

. However, it eventually becomes a subverted example.

Yokoya doesn't gain any sort of precognition. As revealed in chapter 177, all Yokoya did was read the book that the Liar Game was based off of, which uses the exact same setup and games as the Liar Game

.

Too Good for This Sinful Earth: Akiyama's mother was a very kind and honest person, just like Nao. Despite not having lots of money, she worked day and night to pay for her son's education until she fell ill and an old friend of hers deceptively pulled her into an MLM. Despite honestly working hard, she finally realized that she was never paid and her debt remained the same. When she tried to get out of it, the company required a huge sum of money to do so which she would never have been able to pay off. So she took her life in order to save Akiyama's education.
Unspoken Plan Guarantee: Every spoken plan is either fatally flawed or already used by a rival. And every unspoken plan is either a bluff or a winning masterstroke. This applies to whoever the story follows at any given time.
Unwitting Pawn: Pretty much anyone who isn't Akiyama, Fukunaga, Yokoya or Harimoto is one of these. Nao begins to grow out of this after the third round, and The Team promptly gains some new allies to take her place. Even the Chessmasters can become this for each other.
Viewers Are Geniuses: A plausible alternate title for the series would be Game Theory: The Manga... Although many concepts are well explained, it seriously helps to have a good understanding of the Prisoner's Dilemma, social psychology, cold reading, and imperfect competition in microeconomics. Nash equilibria come up later.
Villainous Breakdown:

Yokoya loses his cool when it's revealed his victory was actually a Pyrrhic Victory.
At the end of the Bid Poker round,

Kimura

has one.

Walls of Text: It's a dialogue-driven story which touches on areas of game theory, individual psychology, sales practices, economic theory and sociology.
The Watson: Later in the manga, Forli, who is often unable to figure out the players' tricks and strategies and has everything explained to him by other dealers.
"Well Done, Son" Guy: For all his cruelty and arrogance,

Yokoya

's primary motivation is to be seen as his father's equal. He participated in the Liar Game

despite already being filthy rich

because daddy challenged him to raise 500 million yen in a short period of time.
Wham Line: When The Chessmaster reveals how everything that has happened was just according to his plan, expect several of those. Unwitting Pawns will reply by gaping their mouth at an inhuman degree and screaming a Big "WHAT?!" at the top of their lungs. An example from the Bid Poker game:

Nao:

"The true leader of

Harimoto's group is not Harimoto, but Kimura

".

Wide-Eyed Idealist: Nao's idealism actually manages to win over the cynicism of most of the other players. Which is not actually unlikely; as con artists say "you can never con an honest person", since all forms of con require the mark to be willing to be greedy or dishonest.
The Worf Effect:

How are we made immediately aware of the potential danger Harimoto poses? He utterly wiped the floor with Fukunaga.
Fukunaga gets worfed again in the last Revival Round

to show Yokoya has become an even worse threat than he was before

.

Xanatos Speed Chess: When there is more than one Chessmaster in a game, it's either this or Gambit Pileup. Perhaps best demonstrated by the endgame of Musical Chairs after it becomes a three-way-battle with everchanging alliances.
You Can Always Tell a Liar: Subverted: During the second Revival Round,

Fukunaga apparently betrays her team by telling Nao's opponent that Nao blinks twice whenever she lies. It's revealed to be a ruse planned by Nao herself to trick her opponent into overconfidence

.
---