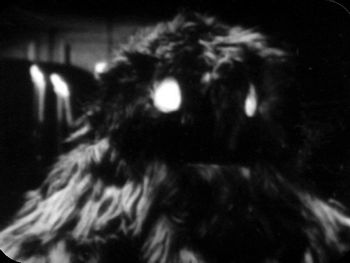 Captain Knight: What's a girl like you doing in a job like this?
Anne Travers: Well, when I was a little girl I thought I'd like to be a scientist, so I became a scientist.
The one with deadly silly string and the debut of DW's resident Badass Normal with the (fake) moustache.
Written by Mervyn Haisman and Henry Lincoln. This six-episode serial first aired from February 3 to March 9, 1968.
---
More Yeti, this time in modern-day London.
Travers, who we last saw in Tibet in 1935, has brought a Yeti control sphere back to England to study and accidentally reactivated it. This gives the Great Intelligence a foothold, and he takes over the London Underground using a web-like substance and attacks by Yeti. (As for where it got the idea...) The military are sent in to try and deal with the problem, along with Professor Travers and his daughter Anne.
After hastily resolving that little issue of the TARDIS flying through the Time Vortex with the doors open, the Doctor is drawn into the Yeti situation when the Intelligence reaches out into space and traps the TARDIS in the web. When it finally lets go, the Doctor is able to land somewhere other than where the Intelligence intended. By the time the Doctor works out what is going on, he's cut off from the TARDIS and very definitely caught in the trap set by the Intelligence.
The Intelligence plans to drain the Doctor's mind, but the Doctor sabotages his machine, so instead of the Intelligence draining the Doctor, the Doctor would drain the Great Intelligence's mind and put it out of business for good. Unfortunately his plan was a last minute improvisation that no one else knew about, and Jamie uses a yeti reprogrammed by the Doctor and Traver's daughter Anne earlier, to rescue him before he can defeat the Intelligence. The Great Intelligence is flung off into space, the Doctor deeply distressed that it's still out there, biding its time...
Leaving the army under Colonel Lethbridge-Stewart to do the clearing up, the travellers depart for new adventures...
For over 40 years, this story was considered by many to be one of the holy grails of lost episodes. In October 2013, it was announced that film copies of all but part 3 were found at a TV relay station in Jos, Nigeria. It emerged in September 2015 that all six episodes were in fact present, but the third disappeared during the negotiations to get the prints back; almost certainly stolen.
Unfortunately, since he first turns up in Episode 3, the first appearance of Colonel Lethbridge-Stewart is therefore still lost. The story was released on iTunes with a telesnap reconstruction of part 3. A DVD, also featuring the reconstructed part 3, was released February 2014. A Special Edition DVD / Blu-ray with an animated version of the missing episode followed in August 2021.
---
Tropes
---