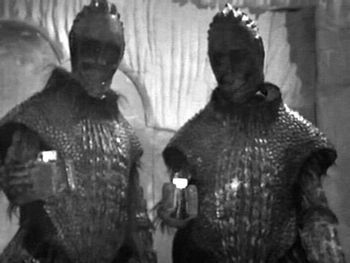 He's got a printed circuit where his heart should be.
— Penley doesn't think much of his colleague Clent.
The one where Mars attacks!
Written by Brian Hayles. This six-episode serial first aired from November 11 to December 16, 1967.
---
Earth is in the grip of a new Ice Age, and the Doctor arrives at a station tasked with keeping the ice at bay using an ioniser. As the glacier moves forwards, a frozen creature is dug out of the ice - a reptilian-looking humanoid jokingly termed an "Ice Warrior" by the base personnel.
The Ice Warrior thaws and wakes up, stating his name is Varga and he was the commander of a ship from "the Red Planet" which crashed on Earth thousands of years ago. Now that his own planet is dead, Varga plans to conquer Earth with the help of his similarly-frozen comrades.
The base scientists meanwhile realize that if the ionizer beam hits the alien ship, the engines could explode and kill them all - but the Doctor persuades them it's worth the risk as not doing so could doom the entire Earth. Luckily for all concerned (except the Ice Warriors), there's only a relatively small explosion - killing all the Ice Warriors and destroying the ship and also conveniently stopping the flow of the glaciers for a while.
The Ice Warriors would recur several more times under the Second and Third Doctors before disappearing from the show. They had been planned for a story with the Sixth Doctor before cancellation put paid to that. And the Seventh, before it was cancelled again. They eventually reappeared in the Eleventh Doctor episode "Cold War" and later returned again in the Twelfth Doctor episode "The Empress of Mars".
Tropes
---