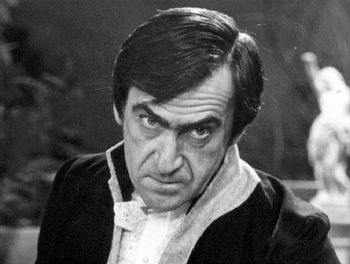 "Dinner tonight's going to be a national disaster! First course interrupted by bomb explosion. Second course affected by earthquakes. Third course ruined by interference in the kitchen. I'm going out for a walk. It'll probably rain..."
— Griffin the chef
The one where the bad guy looks like the Doctor in brownface.
Written by David Whitaker. This six-episode serial first aired from December 23, 1967 to January 27, 1968.
---
The Doctor, Jamie, and Victoria arrive in Australia in the year 2018 only to discover that the Doctor bears a great resemblance to Ramon Salamander, would-be world dictator. Salamander is a scientist turned politician who has perfected a technique for storing and distributing solar energy, feeding a world ravaged by storms, volcanoes and earthquakes.
The Doctor ends up in the company of Astrid Ferrier and her employer Giles Kent, a dissident who is one of the few who knows that Salamander is busy setting himself up as a dictator rather than the world-saving hero everyone else believes. He convinces the Doctor to investigate. Jamie and Victoria head to Hungary with Astrid, while the Doctor and Kent go to Salamander's research station. Jamie and Victoria are initially successful in infiltrating Salamander's inner circle, but are soon discovered and arrested.
Salamander himself is responsible for the natural disasters. He creates them with the help of a group of humans living in a bunker underneath his research station. This group were selected for an endurance test five years ago, and believe that there is a war going on above and they have been striking back at the enemy by engineering the natural disasters. When the leader of the group insists on accompanying Salamander back to the surface, Salamander attempts to kill him, but the man survives long enough to be found by Astrid, who in turn discovers the bunker. Between her discovery and the Doctor tricking Kent into confessing his part in the whole scheme, Salamander's crimes are finally made public. Kent originally worked with Salamander on the project, but now returns to destroy the base.
Salamander attempts to escape in the TARDIS by impersonating the Doctor, but the Doctor catches up with him before he can trick Jamie into operating the controls. In the ensuing fight, Salamander activates the dematerialization control, but he doesn't know that the door must be closed first and is dragged screaming into the time vortex.
---
With the exception of the existing Episode 3, this story was missing from the BBC archives until all six parts were recovered from a TV relay station in Jos, Nigeria, along with most of The Web Of Fear (actually all of it, but Episode 3 was stolen before the BBC could claim it). The discoveries were made public in October of 2013.
Tropes
---