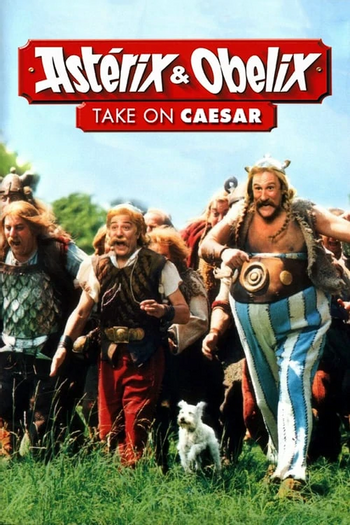 Asterix & Obelix Take on Caesar (French: Astérix & Obélix contre César) is the first live-action theatrical movie to be based on the popular Asterix comics, directed by Claude Zidi. It came out in 1999 and spawned a film series.
In 50 B.C., Julius Caesar is celebrating his victory over all of Gaul, but Lucius Detritus has kept from him that one village has managed to resist them. Detritus travels to the garrison near the village where Caius Bonus, the garrison's commanding Centurion, explains that the Gauls have a magic potion made by the druid Getafix, which makes them invincible. Detritus decides to capture the potion for himself, and hearing that the clever Asterix and permanently invincible Obelix are the backbone of the Gaulish forces, attempts and fails to eliminate them, then captures Getafix.
It stars Christian Clavier as Asterix, Gérard Depardieu as Obelix, Gottfried John as Julius Caesar, Roberto Benigni as Lucius Detritus and Michel Galabru as Vitalstatistix, amidst a huge cast of both up-and-coming and veteran French actors.
A sequel, Asterix & Obelix: Mission Cleopatra, came out in 2002.
---
Asterix & Obelix Take on Caesar provides examples of:
---