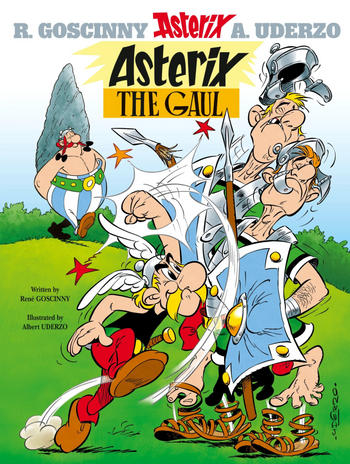 The year is 50 BC. After a long struggle, the ancient Gauls had been conquered by the Roman Empire, with chiefs like Vercingetorix having to lay their arms down at the feet of Caesar. All of Gaul is occupied... except for one small village, who stubbornly hold out against the invaders. All efforts to subdue this village have failed, and Caesar himself asks "Quid?"
Our hero Asterix goes out boar-hunting, and bumps into a patrol of four legionaries — much to their pain. The patrol goes back to the Roman camp of Compendium to report their defeat, and the centurion Crismus Bonus wonders what secret the Gauls have that makes them so strong.
Returning to the village after a successful hunt, Asterix and his friend Obelix have lunch. Afterwards, Asterix goes to see the druid Getafix for another dose of magic potion — the potion makes its drinker invincible, but only temporarily. Obelix is denied any, having dropped into a cauldron of the stuff as a baby and becoming permanently enhanced.
At Compendium, Crismus Bonus decides to send in a spy to learn about the Gauls' strength. One Caligulaminus is selected, dressed up as a Gaul, and sent out in chains with some legionaries. Sure enough, Asterix and Obelix "rescue" "Caligulaminix" from his "captors" and take him back to their village. Playing on their sympathies, Caligulaminix is shown and given some magic potion. However, his disguise comes off during a village folk dance, and the exposed Roman uses his new invincibility to escape. Caligulaminus reports back at Compendium, and Crismus Bonus decides to use the potion to overthrow Caesar.
While out collecting herbs, Getafix is captured by the Romans. Asterix, while looking for the druid, learns from a ox-dealer what happened, and with the dealer's help sneaks into Compendium. There, Asterix overhears Crismus Bonus planning to take control of Rome from Caesar and finds Getafix. The two Gauls decide to have some fun with the Romans before leaving. Asterix "surrenders" and he and Getafix trick the Romans into drinking a potion that causes massive hair-growth. Crismus Bonus offers them freedom if they brew an antidote, and Getafix agrees; the potion will wear off, but they need to collect ingredients for the invincibility potion. Taking refuge in a private tent, Getafix brews two cauldrons — one full of "antidote" and a smaller one for strength potion. Asterix drinks the potion, and uses his enhanced strength to pound the Romans. But before the Gauls can escape, an army of legionaries shows up at Compendium. Reinforcements?
Actually, it's Julius Caesar himself! Caesar has come to see how Crismus Bonus is doing with the Gauls, and wonders what's going on. Asterix reveals that Crismus Bonus was planning to use the magic potion to overthrow him. Caesar has Crismus Bonus sent to Outer Mongolia to deal with a barbarian rebellion, and as a reward for exposing his treasonous intentions, grants the Gauls their freedom.
The album was adapted into an animated film in 1967, Asterix the Gaul.
---
Asterix the Gaul provides examples of:
---