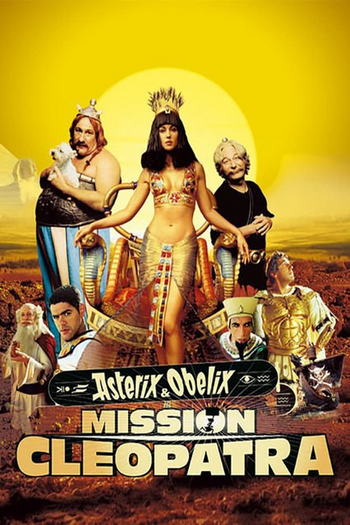 Asterix & Obelix: Mission Cleopatra (French: Astérix et Obélix : Mission Cléopâtre), also known as Asterix and Obelix Meet Cleopatra, is a 2002 French Sword and Sandal comedy film. It is the Live-Action Adaptation of the comic book Asterix and Cleopatra of René Goscinny and Albert Uderzo, and the second Asterix live-action film adaptation after Asterix & Obelix Take on Caesar, directed and written by Alain Chabat (who also starred as Julius Caesar).
Infuriated by Julius caesar's belittlements, Queen Cleopatra makes a deal with him: if the Egyptians build a gigantic palace at Alexandria under three months, he must acknowledge that Egypt was the greatest of nations. To perform this task, Cleopatra hires the architect Edifis, much to the dismay of Criminalis (Artifis in the comic's original English translation), Cleopatra's customary architect. Edifis is clueless about exactly how he can pull this off, then his secretary Otis brings up the druid Getafix, whose potion empowers its drinkers. Edifis goes in search of him far away, in Gaul. Once there, Getafix accepts to go to Egypt and is accompanied by his two trusted warrior friends Asterix and Obelix. Once in Egypt, they face numerous hurdles as both Criminalis and Caesar want to see them fail.
The film starred a great many prominent and up-and-coming French comedic actors and comedians of the early 2000s, with Christian Clavier and Gérard Depardieu reprising their roles as Asterix and Obelix respectively. It also starred Monica Bellucci as Cleopatra and Jamel Debbouze as Edifis.
It was followed by Asterix at the Olympic Games in 2008.
---
Asterix & Obelix: Mission Cleopatra provides examples of:
---