It is interesting to note that all of the characters in this story are actually humans. They are portrayed as animals because of Author Appeal, and the authors refer to this as seeing the characters through a "furry lens". That means that this is a Furry Comic in the sense that they are portrayed as animals and not because they actually are animals.
WARNING: Major spoilers ahead! Read at your own risk.
---
open/close all folders
The Kinsey Six
Paul "Paulie" Mayhew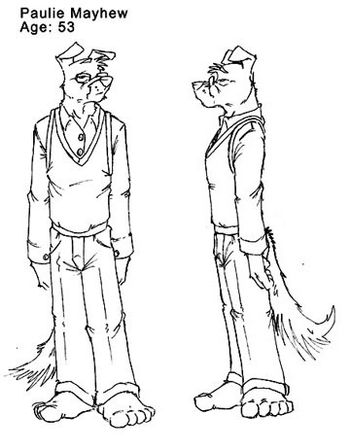 The owner of the 6 Kinsey Circle residence, he is the oldest of the group and he was born and raised in England. He is Douglas' beloved husband and is portrayed as a Golden Retriever dog.
Douglas Pope
Paulie's beloved husband. He is portrayed as a river otter.
Arthur Korsky
Paulie's other closest and oldest friend along with John. He is portrayed as a brown bear.
Kenneth "Ken" Brassai
Another dear friend to Paulie. He is Mike Lang's boyfriend and he is portrayed as a cheetah.
Taylor "Taye" Dooley
A young and aspiring performer. He is Marty's boyfriend and is portrayed as an Eastern Grey Kangaroo.
Martin "Marty" Miller
A late addition to the group who is a college student and the youngest adult. He becomes Taye's boyfriend and is portrayed as a skunk.
Minor Characters
John Brockhurst
Paulie's oldest and closest friend along with Arthur. He was Paulie's first lover in America and he introduced Paulie to Arthur, which led to their three-way relationship. He is the owner of the Triangle Books bookstore and he is portrayed as an American Badger.
Mrs. Esther Nussbaum
An elderly lady who lives in the same Kinsey Circle neighborhood. She is very fond of Paulie and the others and she is portrayed as a Grey Squirrel.
Cool Old Lady: She is sweet and caring and can really tear you a new one if you are petty like Carter Allen.
Fag Hag: She is a widowed straight woman who loves Paulie and the others, despite her late homophobic husband.
Never Mess with Granny: She has a sharp tongue and is very wise and caring towards those she loves. She has a gay grandson who nearly committed suicide which leads to her having no tolerance for homophobia.
Carter Allen
A father who lives in the Kinsey Circle neighborhood. Unlike Mrs. Nussbaum, he dislikes the Kinsey boys and believes they are sinful and will be a bad influence on his two young sons. He is portrayed as a red fox.
Cranky Neighbor: He dislikes the 6 Kinsey Circle residents because they are all gay and isn't comfortable raising his sons around them.
Politically Incorrect Villain: He holds a meeting with the entire neighborhood and doesn't invite Paulie and the others because he wants to discuss what to do about them. He doesn't want to live near "fags" in his neighborhood.
Spoiler Characters
Douglas' son born out of wedlock from when he was together with his girlfriend Linda. Jason lived with his mother and when she passed away, Doug won custody over Jason from Linda's parents. He is the youngest member of the residence and he is portrayed as a river otter.
Cut Himself Shaving: When he returns home and slams the door, Paulie and Douglas rush to him to ask if he is okay. He reveals he is injured and says "he hit himself with a locker". Paulie is incredulous but Doug was already aware of what happened and told Paulie that he actually got in a fight due to being teased about his fathers.
Has Two Mommies: Gender-inverted: Well, for Jason, it's more like a daddy and stepdaddy, er, Uncle Paulie. But then eventually, "Dad".
Mistaken for Gay: Because his mother passed away and he is living with two fathers in a house full of gay men, the bullies and some of his peers make fun of him and his dads and they think he is gay also.